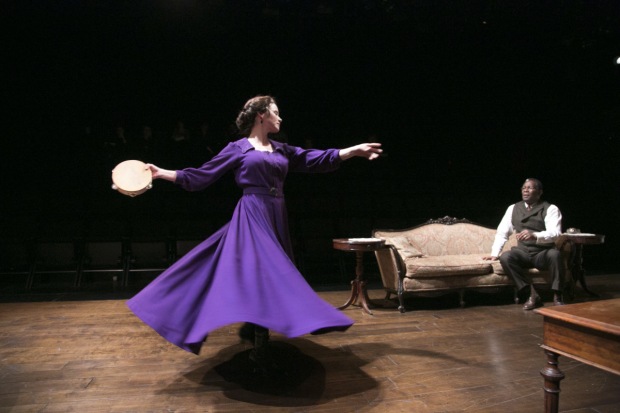 Maggie Lacey and John Douglas Thompson star in Henrik Ibsen's A Doll's House
(© Gerry Goodstein)
††††††††††††††††††††††††††††††††††† by Deirdre Donovan
What could be better than seeing a new stage production of Ibsenís A Dollís House?† Naturally, seeing it in tandem with Strindbergís The Father.† New York theatergoers now have a rare chance to catch both masterpieces at the Polonsky Shakespeare Center, where Theatre for a New Audience is presenting them in rotating repertory.
Helmed by Arin Arbus, the two works give you a double lens to investigate the gender divide in marriage.† Strindberg, in fact, wrote The Father in response to Ibsenís Dollís House.† Unsettled by Ibsenís study of a middle-class marriage, he was determined to ink his own social parable, and succeeded by carving out a gem of a play.
A Dollís House, of course, is the better known of the pair.† No question itís Ibsenís most celebrated work.† Ibsen wrote the drama when he was over 50 and it became an instant hit at its premiere in Stockholm in 1880.
So does Arbusí new outing of the war horse measure up?† You betcha. But donít expect to hear any taffeta phrases spoken by the iconic characters.† Arbus uses Thornton Wilderís taut English translation (it debuted on Broadway in 1937) that remains faithful to Ibsenís poetry but registers on your ear like ordinary speech.
Hereís a refresher on the plot. When the lights go up, Nora Helmer is getting ready for Christmas.† Her husband Thorwald recently received a promotion to bank director and their future looks bright.† Out of the blue Noraís childhood friend Christina materializes at the Helmerís door in search of a job from Thorwald.† Her unexpected arrival triggers a series of events that uncover secrets from Noraís past that threaten her marriage and familyís well-being.† Most disturbing, a heroic act she did long ago for Thorwald when he was gravely ill becomes twisted into a crimeóand her husband now condemns her foolishness.† Jolted by her husbandís blindness and lack of sensitivity, Nora slams the door on her marriage and children, and walks into an uncertain future.
†
If the plot is riveting, the acting is the lynchpin to a good production.† And, fortunately, the acting ensemble here is a strong one.† At first blush, John Douglas Thompson might seem miscast as the doting husband Thorwald.† Thompson, in fact, was last seen at the Polonsky Shakespeare Center playing the titular character in Tamburlaine, a part ideally suited to his acting gifts. True, the bourgeois Thorwald doesnít demand the same degree of wild passion.† But just wait til Act 2 arrives for the fur to fly.† Yes, Thompson really displays his virtuosity at the eleventh hour.† Maggie Lacey, in the pivotal part of Nora, has the necessary range too, gradually evolving from the doll-like wife to the determined woman who insists on her independence.† Linda Powell, as Noraís friend Christina, projects the care-worn air of a hard-working woman whoís just become a widow.†† Nigel Gore, as Doctor Rank, is solid as the playís raisonneur.†
When it comes to the creatives, they are all on their toes.† Riccardo Hernandez creates a narrow set that conveys the boxed-in atmosphere of the Helmer home.† Marcus Doshiís lighting ensures that we catch each beat of the play.† And Susan Hilfertysí period costumes are pure confections.

John Douglas Thompson plays the Captain and Maggie Lacey plays Laura in August Strindberg's The Father.
(© Gerry Goodstein)
The Father doesnít have the celebrity of The Dollís House, but it is one of Strindbergís top-drawer works.† The story revolves around a cavalry officer Captain Adolph and his wife Laura who vehemently argue over their daughter Berthaís education.† Their argument intensifies when Adolph points out to Laura that his opinion trumps hers, since she gave away her rights when she married him.† His wife gains the advantage, however, when she cunningly confides to the family doctor Doctor Ostermark that Adolph has been mentally unbalanced for years and, and she has a letter in her possession in which her husband writes that he is going mad.† Spoiler alert, readers!† The letter foreshadows what will soon happen.†† And it doesnít take a rocket scientist to know who is winning in this war between the sexes.
The acting ensemble delivers the goods once again here.† Thompson, as the Captain, balances his performance with displays of hubris early on and then the desolation of a man suffering a severe mental breakdown.† Lacey portrays the Captainís wife Laura with all the ruthlessness of Lady Macbeth.† Goreís Doctor Ostermark is pitch-perfect as the gullible family doctor.† And in the other supporting roles, Laurie Kennedy, as Margaret, is convincing as the Old Nurse who has the unenviable task of straitjacketing the Captain and Kimber Monroe as Bertha is credible as a young daughter torn between loving her mother and father.
Hernandezís Spartan set hits the mark with its plain furniture and hunting accoutrements.† Doshiís half-lighting is downright eerie.† And HIflertyís costumes summon up the military and civilian look of the 19th century.
Theatergoers who want to sharpen their understanding of the theatrical difference between the two titans, Ibsen and Strindberg, need look no further than this double-bill.† Arbus does a double slam-dunk by staging these two 19th-century works in rotation.† With a fine acting ensemble, and Thompson and Lacey playing opposite each other as the principals in the two productions, this theatrical event is a must-see.
Through June 12th .
At the Polonsky Shakespeare Center, 262 Ashland Place, Brooklyn
For more information and tickets, visit www.tfana or† phone† at† 866-811-4111.
Running time of A Dollís House:† 2 hours, 15 minutes with one intermission.
Running time of The Father:† 100 minutes with no intermission.