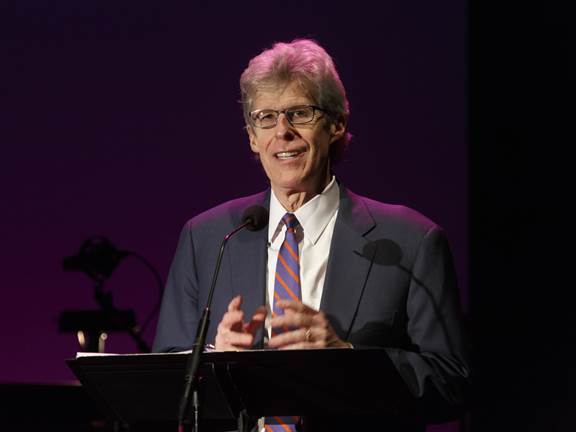 Ted Chapin                                                    photo credit Richard Termine
I Have Confidence: Rodgers After Hammerstein
Lyrics and Lyricists at the 92nd Street Y
                                                  by Julia Polinsky
So seldom does an audience sigh in satisfaction after an evening in the theater. I Have Confidence: Rodgers After Hammerstein sent the Lyrics and Lyricists audience, smiling, out of the 92nd Street Y, into a rainy Saturday night.
The last installment in the 2016 Lyrics and Lyricists season, I Have Confidence: Rodgers After Hammerstein answers the question: after the death of Oscar Hammerstein, who wrote the lyrics for Rodgers' gorgeous melodies? Like an essay question from the SAT, that answer has multiple parts. If you guessed Rodgers himself, Stephen Sondheim, Martin Charnin, and Sheldon Harnick, you get an A.
For decades, the 92nd Street Y has offered its Lyrics and Lyricists series, a love-drunk homage to the American Songbook. Most recently, I Have Confidence: Rodgers After Hammerstein gave an enchanting evening of songs by Richard Rodgers, with lyricists Rodgers himself, and Sondheim, Charnin, Harnick.
Host Ted Chapin, who is president and chief creative officer of Rodgers + Hammerstein, shaped a coherent show from what was basically a staged reading, and offered interesting narration. Larry Pine gave a splendid performance as Rodgers, reading from RR's own writings. Kudos also go to stage director and choreographer Lorin Latarro, and especially to music director Joseph Thalken and his splendid ensemble, beautifully backing up the vocalists.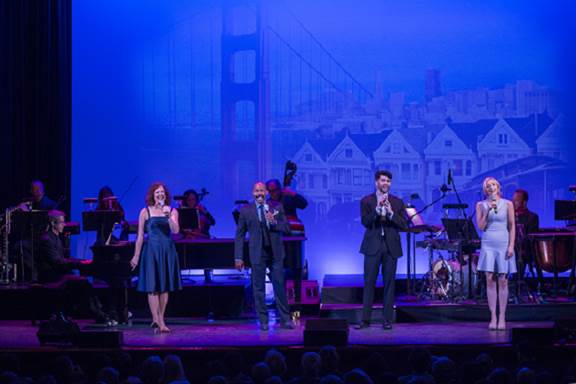 Karen Ziemba, T. Oliver Reid, Ben Crawford, Betsy Wolfe, Joseph Thalken at the piano
About those vocalists: the velvet-voiced Ben Crawford, wonderful T. Oliver Reid, charming Betsy Wolfe, and superb Karen Ziemba, singing Those Songs, made the evening sound divine. Not often do you hear the audience humming along with the music coming from the stage, but it happened here – until the singers started to let loose. Then, all humming stopped, because who could compete with those voices, those performances, those songs? 
And what songs! Rodgers wrote words and music to  "I Have Confidence," and "Something Good," from the 1962 film version of The Sound of Music, to "This Isn't Heaven," from the film State Fair, and  "The Sweetest Sound," and the clever "Love Makes The World Go," from No Strings. His partnerships with Hart and Hammerstein clearly taught him how to make a lyric work, and work damn well.
After showcasing Rodgers' own lyrics, then Chapin brought into play songs with words written by new collaborators.  First, Stephen Sondheim worked with Rodgers on Do I Hear A Waltz, represented here by four songs, the most memorable of which are the title song and the charming ensemble piece, "What Do We Do? We Fly."
After Do I Hear A Waltz, it seems like the evening plucked songs from Rodgers' later-in-life flops. The songs performed so lovingly here showcased his collaborators' meditations, most often on life and love, and most movingly in "I Do Not Know A Day I Did Not Love You," from Two By Two.
Based on a Clifford Odets play about Noah and the ark, which Rodgers wrote with Martin Charnin, Two By Two ran for 10 months, a moderate success. Rex (lyrics by Sheldon Harnick) only opened for a few weeks, and I Remember Mama (lyrics also from Charnin) Rodgers' last show, was famously unsuccessful. And let's not forget Androcles and the Lion, a televised play with music, which got mixed reviews (just imagine: live theater on TV? the mind fairly reels).
As Charles Kuralt noted, when writing a tribute for Rodgers: "Richard Rodgers was a composer for the 1920's. And then it turned out, he was a composer for the '30's as well. And the 1940's, the 50's, and '60's too. And on the last night of the 1970s, we say good-bye to him – but not to his music. That will go on and on and on." In this splendid evening at Lyrics and Lyricists, from flops or smashes, with his own words or those of his writing partners, Rodgers' lovely melodies still get the airing they deserve – after almost a hundred years. Thanks to the 92nd Street Y for keeping them alive.
Lyrics and Lyricists at the 92nd Street Y
2017 Season on sale:
https://www.92y.org/Uptown/Concerts/Jazz-Popular/Lyrics-Lyricists-Subscription