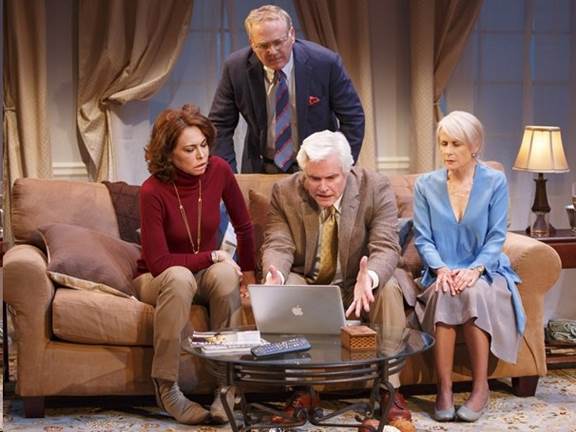 By Julia Polinsky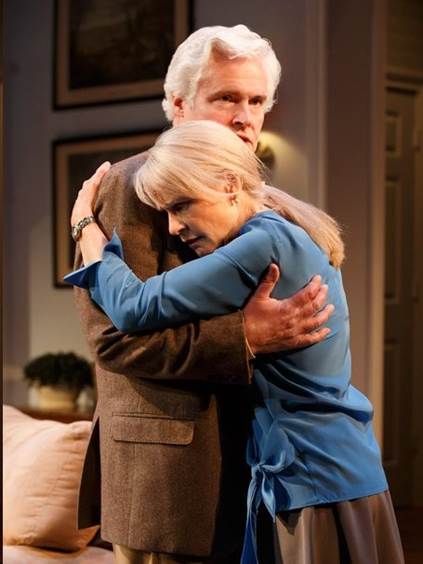 Paul Carlin as Gil and Glynnis O'Connor as Joyce
                                                                       photos by Carol Rosegg
In brief: Gil (Paul Carlin) and Joyce (Glynnis O'Connor) return from Easter Sunday services and prepare to host Easter dinner for their son, Kenny, (Adam Petherbridge), daughter-in-law, and in-laws, Jack (Malachy Cleary) and Audrey (Shelly Burch).  Jack and Joyce have an awkward conversation about Easter, religion, spirituality, their marriage, the recent marriage of their son, and his wife's pregnancy, and that's before the son or the in-laws arrive.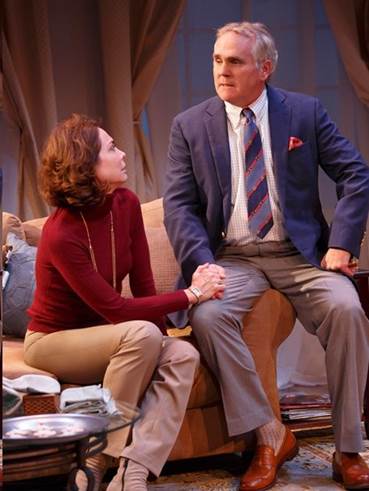 Shelly Burch as Audrey and Malachy Cleary as Jack
They talk about a range of subjects, including but not limited to: Gil asking Joyce if he himself is a spiritual person; Gil trying to talk Joyce into a nooner; Joyce snidely mentioning that the daughter in law was probably pregnant when they got married, both Joyce and Gil snarking how much they dislike their in-laws, and, significantly, the "Secret Sea" of the title, which Gil remembers as the way the doctor talked about Joyce's uterus. Charming.
By the time the other actors appear onstage, the audience has been set up to expect conflict about marriage, life, spirituality, and pregnancy, before anything else has happened. Ryan does not disappoint these expectations, unfortunately, which is a pity, because the predictability of the subsequent revelations, mixed with WASP cattiness, selfish childishness, and pathos, made for an unpleasant 80 minutes without intermission.
Mediocre performances abound. Not one of the actors strikes believably at the heart of the problem the play deals with. Either too much or too little, or too loud, or too broad, or too removed, their performances hit the wrong notes, every time. Even the scene tacked on at the end, which should have touched hearts, instead resolved too many issues, tied them up with a ribbon, robbed the audience of the chance to make its own decision. Basically, it established In The Secret Sea as a lecture, a polemic, rather than a play.
It can be argued that theater should address important issues, that, since ancient Greece, plays have made catharsis possible. Maybe so. But at least, do it well.
Barring the handsome set by Beowulf Boritt, splendid lighting by Ken Billington, and excellent way director Martin Charnin moved his actors around the stage – not a wasted movement, all the space used, and used well – Cate Ryan's In The Secret Sea seemed more like a community theater production than professionals, working in off-Broadway, New York City.
In The Secret Sea
By Cate Ryan
At The Becket on Theatre Row
Tues 7pm; Wed, Thu, Fri, 8pm; Sat 2 and 8; Sun, 3pm
Through May 21
Tickets: $39
By phone:
Call Telecharge at 212-239-6200
800-432-7250
In person:
Theatre Row Box Office
410 West 42nd Street
(between 9th & 10th Aves.)