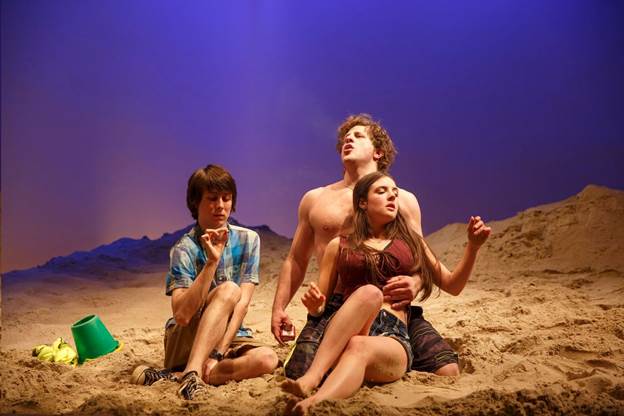 by Michall Jeffers
Sand, soulfulness, and summer love
Yes, that's real sand setting the tone for Indian Summer, the final production of the splendid Playwrights Horizons season. Waves are crashing on the beach as Daniel (Owen Campbell) tries to pass the time. He wears a plaid shirt, khaki shorts, and sneakers, and sports long, shaggy bangs. His mom has dumped him off on his step-grandfather, George (Jonathan Hadary) for who knows how long. Daniel is bored, worried, and not having a very good time until Izzy (Elise Kibler), a local girl, shows up. She's spunky, pretty, and in a bright yellow crop top and short shorts, really sexy. She and Daniel fight over a beat up old sand pail, which she claims belongs to her little brother. Daniel disputes the assertion, but is more than a little attracted to Izzy. She wonders out loud why she's talking to him, and not beating him up.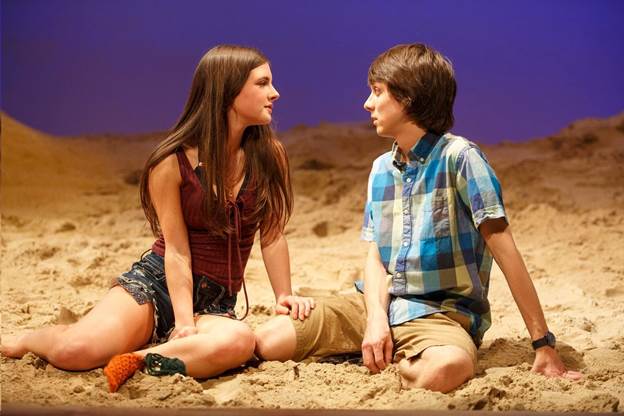 Elise Kible & Owen Campbell                                                   photos by Joan Marcus
It's pretty obvious that they have great chemistry, and no surprise when they end up making out on the beach. But there are complications; Izzy's hunky boyfriend, Jeremy (Joe Tippett) shows up, and he immediately retrieves his property by rolling around on the beach with Izzy. Added to this impediment, George dismisses Izzy's family, the Rizzo's, as low class; "They're pigs," he declares, and offers to take Daniel to a puppet show and then to Friendly's for ice cream. This does not distract Daniel from the heat he feels for Izzy, and his feelings deepen when he finds out she has a softer, dreamy side.
It's strange that no one else has written about Rhode Island. This smallest state is a kingdom of its own, full of contradictions and idiosyncrasies. Even for New England, the vocabulary is unique. You order a frappe instead of a milk shake in Boston; in Rhode Island, you'd ask for a cabinet- no one knows why. The accent is inimitable, and very pronounced.  And most stunning of all is the economic diversity. Newport has long been the getaway of choice for wealthy, well established families. Cranston is traditionally at the other end of the financial spectrum, and rarely, if ever, do the two lifestyles collide. When Izzy and Jeremy sneer at Daniel for being one of the "summer people" from Boston or New York, they're protecting their status as "townies."  Jeremy expresses his distaste by branding Daniel an "invasive species."
While the pace of Indian Summer is languid, the performances are fully charged. Elise Kibler is a knockout; her Izzy is brash, uncertain, and longing for another life, maybe in far off Hawaii. She's challenging, yet sympathetic.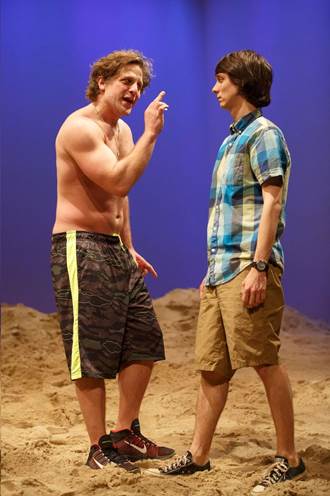 Joe Tippett & Owen Campbell                                                  
 Joe Tippett comes close to stealing the show. As meathead Jeremy, he's right on target, and very funny. When he takes off his shirt, it's obvious he spends a lot of time at the gym. When he spouts his philosophy and his intention to be "like Jesus and Bruce Lee," even though he confesses to drinking too much, we see that he's not just a bully and totally narcissist.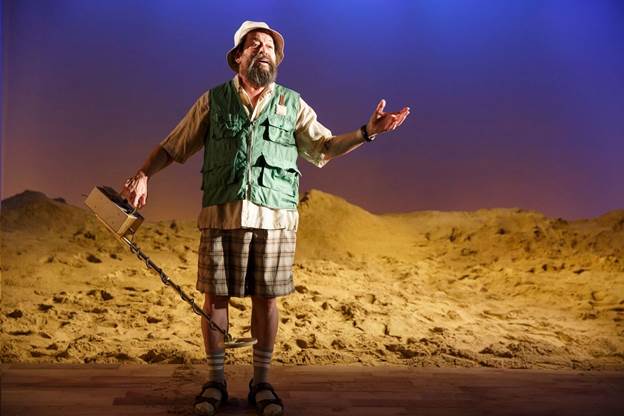 Jonathan Hadary
Owen Campbell shows us a Daniel who's a typical confused, horny, discontent teenager, but is also someone who crochets to ease his anxiety. His loneliness is palpable, as is the strong pull he feels with Izzy. Jonathan Hadary, speaking largely in monologues addressed to the audience, is, as always, an actor who captures the big hearted essence of his character, as well as the humor that shines through his loneliness.
Although it's just after July 4th and not really that unexpected warm season that hits in September, author Gregory S. Moss ably captures the melancholy of trying to grab a special moment in time, and director Carolyn Cantor ably creates a world "where the ocean meets the ground." It may not be someplace you want to live all the time, but it is a compelling world to visit.
Indian Summer, Playwrights Horizons Mainstage Theater, 416 W. 42 St.,  212-564-1235, playwrightshorizons.org,  2 hours 10 minutes, through 6/26/16
Author:  Gregory S. Moss,  Director: Carolyn Cantor
Cast: Owen Campbell (Daniel), Jonathan Hadary (George),  Elise Kibler (Izzy), Joe Tippett (Jeremy)
Technical: Scenic design: Dane Laffrey, Costume design: Kaye Voyce,  Lighting design: Eric Southern