Count Wilhelm (Clint Hromsco) and Kabarett Headliner Rosie Penn (Amy Londyn)
by Julia Polinsky
If you like junior high drama-club level musical theater, you'll love Write Act Repertory Theater's production of Michael Antin's Lili Marlene, currently running at St. Luke's, on 46th Street, Tuesdays through the October.
The show has all the hallmarks of a vanity production by the cleverest kid in the class, the star of 8th Grade: a jejune treatment of a serious story, written with great reverence but a tin ear.
An upright piano tinkles fair-to-poor songs. The cast churns out so-so performances with one star turn (the talented and lovely Amy Londyn as Rosie) and one lively, solid job (Matt Mitchell as Josef). Eager, dull choreography and clueless direction miss the mark over and over. Not to mention sloppy costuming, literally – somebody please buy the costumer an iron and some shoe polish – and lighting that obscures more than it reveals.
The real issue; you'll want to like this play. The story, a WWII people-in-danger tale, still resonates. How can you not care about a Berlin-between-the-wars love story?
In Antin's Lili Marlene, Rosie Penn, a famous Jewish cabaret singer who finishes each performance singing the tea jerking "Lili Marlene," has a new admirer, the redundantly named Count Wilhelm von Kleister Graff. (note to author, director, producer, dramaturg, et al: "Graff" means "Count")
The story is set up by characters, time and place, and what we know of history. Antin ups the ante by having Count Graff and his family be people with a strong sense of duty to Germany, their homeland.
As Nazism consolidates power, Graf Graff and his family have to make difficult decisions about speaking out, standing up for what they believe, resisting, and paying the price. In case you're wondering, yes, it's almost impossible to ignore the parallels to the current political situation in this country.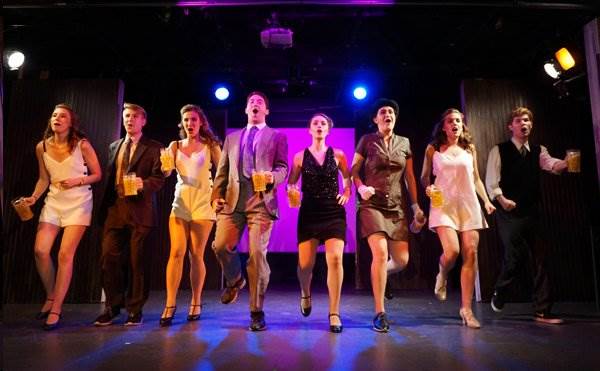 Alexandra Gonzalez, Jacob Rice, Stephanie Michele Toups, Kevin Paley, Amy Londyn, Rachel Leighson, Elle Rigg, Nicholas-Tyler Corbin. Photos by LOU VITACCO
You'll want to feel for the Jewish cabaret singer, her aristocratic lover, his educated, cultured, basically doomed family. You'll want to admire the chutzpah of the lesbian emcee at the Berlin "kabarett," holding it together as her world disintegrates, and she is forced to make a huge compromise just to survive. You'll want to get a lascivious kick from the chorus line, and a nostalgic frisson from the music. Not happening, alas.
Lili Marlene has family drama, heroism, political controversy, class consciousness, and more than a hint of warning that things can go very wrong, very fast, and Attention Should Be Paid. If you want to take a kid to the theater to see something that will provoke an interest in that historical period, and maybe teach a little about paying attention to what's going on around you, you could do somewhat worse. Somewhat. Still, wait for better. It will reward you more to go to a revival of Cabaret.
Lili Marlene
Book, Music, and Lyrics by Michael Antin
Presented by Write Act Repertory
July 25-October 10; Tuesdays at 7pm
St. Luke's Theatre
308 West 46th Street, Between 8th and 9th
Tickets $20-99
212-239-6200 or www.telecharge.com/Off-Broadway