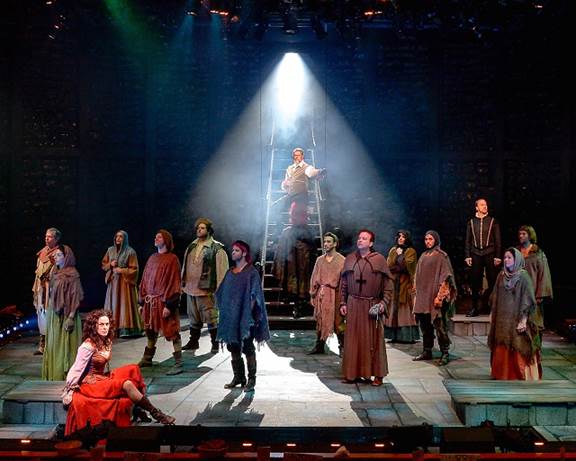 Paul Schoefler, and cast Photos by John Vecchiolla
                                        By Eugene Paul
There's an apocryphal story that in 1960, Dale Wasserman, who wrote his non-musical teleplay "I,Don Quixote", went to a fortune teller to advise him about allowing director Albert Marre to develop it into a musical for the stage.  The fortune teller told him it would be hugely successful, that his life would never be the same. Since then, there have been over ten thousand productions of Man of La Mancha,  over three hundred productions a year currently.  Here, in Westchester, this beloved musical is the 192nd production of Bill Stutler and Bob Fink's famed dinner theatre and a roaring audience pleaser.
What's more curious is that when Marre brought Mitch Leigh aboard to write the music, they were going to try something nobody had tried before: to build a musical within a straight play, to keep the play for its strength, which blended the great Cervantes with his greatest creation, Don Quixote, the mad, idealistic dreamer until they became one.  Leigh composed a full evening's music which also flew in the face of musicals because the score was linked, melody to melody, rhythm to rhythm, instead of creating a variety of rhythms and songs as is generally believed to be far more likely to keep an audience happy.
Everything worked.  Audiences loved the mad musical of Don Quixote precisely because his pure vision tied the play and the musical together and the music flowed into his pure, mad vision, culminating in Don Quixote's/Cervantes's greatest aria, "To Dream the Impossible Dream".  It has become the yearning voice of generations, even stronger in this darkening world.  When, at the beginning, Alonso Quinjuana, a strolling vagabond (stalwart, golden voiced Paul Schoefler) is thrown into a dungeon to await his fate, to save himself and his assistant, Sancho Panza (endearing Gary Marachek) from the depredations of the other prisoners, he offers to entertain them by telling them of his adventures.
Enthralled, they watch as he becomes the mad, elderly, chivalrous dreamer, Don Quixote, and even as they continue at first to mock him and abuse him, they find themselves more and more involved, fascinated. His music envelops them and us. His dream world changes them.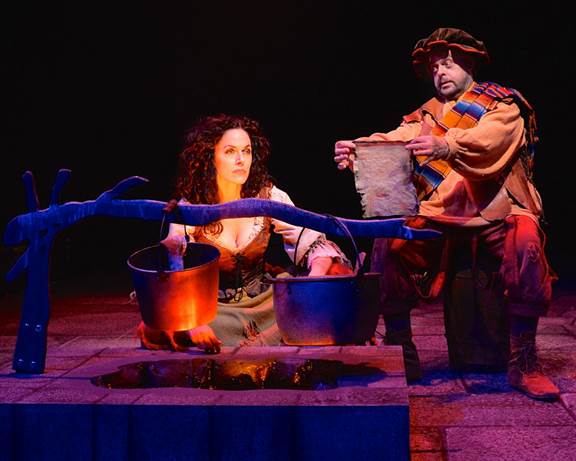 Michelle Dawson (Aldonza) and Gary Marachek (Sancho) perform "The Missive"
When he meets the used, abused whore, Aldonza (lovely  Michelle Dawson) and declares her the lady Dulcinea of his visions, the enchantment never leaves her. And we are swept away by the music. When Paul Schoefler, as Don Quixote, soars, transported in his vision, singing "Man of La Mancha", it is transporting for the prisoners.  They accept him, carried away by his story telling and by the music. And so are we.
Later, describing his adventures, he ends up at a castle.  Of course, it is not a castle, it is only an inn, but the innkeeper ( excellent, strapping Geoff Belliston) is so beguiled by being mistaken as the lord of a castle he caters to Don Quixote's quixotic vision, at least of himself, and allows him  and his henchman to stay. His kindness is not shared by everyone, certainly not his wife ( Corinne Scott).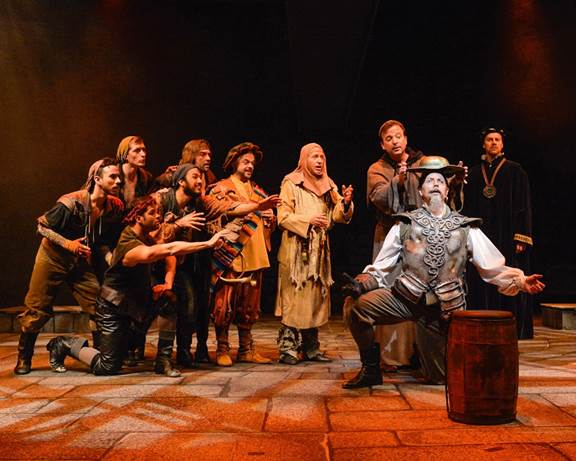 Paul Schoeffler (Don Quixote) and ensemble in "The Golden Helmet Of Mambrino."
When a barber (David Cantor) comes to sell his shaving services to anyone who can afford to buy,  Don Quixote is transfixed by the barber's brass shaving basin. He sees it as "The Golden Helmet of Mambrino" almost a sacred object to him..  He feels honored to be able to wear it.  The others howl with laughter.
Director/choreographer David Wasson has woven together a complete tapestry of a show, his dances fully integrated into the Cervantes story, the brutal, balletic rape of Aldonza by the muleteers one of the show's highlights.  Throughout, he sets a tone for the whole company as they become part of Don Quixote's reality, his search for his ideals, and Paul Schoefler as Quixote stays true to the dream, his performance the core around which the show is built.  The sets and costumes by Michael Bottari and Ronald Case fulfill Director Wasson's focus on casting a spell and his entire, inspired company responds.
Mitch Leigh never wrote another musical which came even close to the enormous success that Man of La Mancha was and is.  It is the peak achievement as well for everyone connected in its creation.  That's enough.  That's achieving an impossible dream. A fortune teller's dream.
Man of La Mancha. At the Westchester Broadway Theatre, 1 Broadway Plaza, Elmsford, NY 10523.  Tickets:$59-$84 Dinner and show. 914-592-2225. Thru May 1.