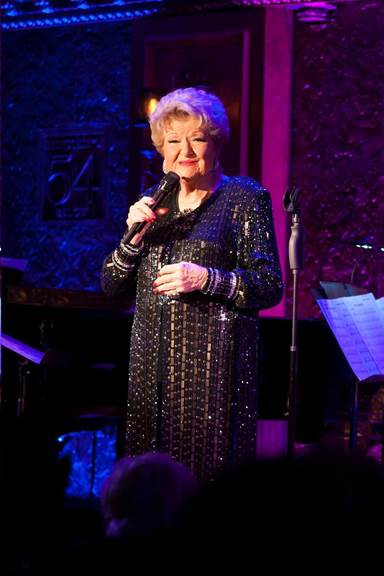 By Marc Miller
At 88, Marilyn Maye's voice is showing signs of age, and that's a good thing. The upper ends of the diva's belt range are getting a little raspy, a little throatier. It makes for less lovely, but more expressive, tones. Not that Maye's powers of expression were ever muted. But now, with this new growliness, she has an additional weapon in her formidable arsenal.
Maye's show at Michael Feinstein's 54 Below, "Highlights"--"It's got nothing to do with my hair," she assures an adoring crowd--is a retrospective of a 70-year-plus career with stretches of spoken, off-the-cuff autobiography. Aided by Billy Stritch (piano), Tom Hubbard (bass), and Ray Marchica (drums), she makes beautiful music from the get-go, with an "I've Grown Accustomed to Her Face" tricked out with some pretty good special lyrics: "I've grown accustomed to the tune/ You ask for me to croon." Then it's down a not always happy memory lane, with multiple marriages to guys who liked to drink, and a career that stalled out as rock singer-songwriters increasingly crowded out her market in the 1970s and beyond. She's not known for singing that stuff, but one doesn't doubt she could. She does fine with a snatch of "Make Your Own Kind of Music," and, recounting how a 1940s radio station she worked for suddenly went country, serves up a "Your Cheatin' Heart" that successfully fuses elegant and twangy.

                                                                                                           Photo credit Nella Vera.
She and Stritch seem to be crazy about each other, and when they scat together, it's not Ella-style improvisation, but meticulously worked out patterns that honor the melody even while bending it. The voice, if a little frayed in spots, is still rangy and emotional--in its huskier moments, there's more than a whiff of late Rosemary Clooney--and the song choices trod merrily across many genres in the Great American Songbook. Her "My Romance" is sung like the dewy 21-year-old she was when married to her first drunk, and her "Honeysuckle Rose" is as innuendo-filled as a popular song can possibly be. Her "Step to the Rear," which made her a mint when she recorded it as a jingle for Lincoln Mercury, is as sturdy as a 1970 Continental Mark IV, and it's a delight to hear her mock "Sherry," from the flop musical of the same name, even as she honors it.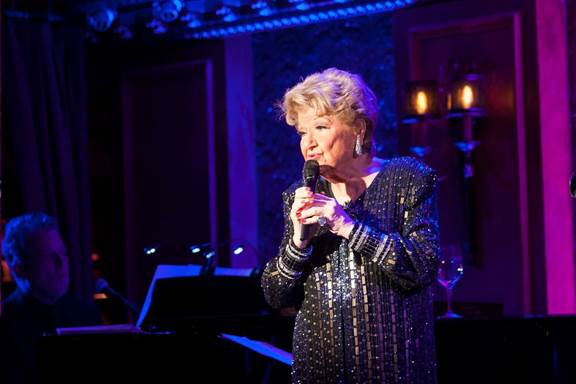 The autobio sections could be trimmed, though they're filled with names a bunch of us of a certain age recall with a smile: Steve Allen, Don Costa, Louis Nye, Bill Dana. (Surprisingly, there's no mention of Johnny Carson, on whose late-night show she appeared 76 times, a record.) Interesting tidbits pop up--can you imagine her as Pistache in Can-Can? she's played it--and they're largely just bridges into the next number. Her generally optimistic, embrace-life persona seems especially well suited to Jerry Herman, and an eccentrically paced "Hello, Dolly!" is a "Highlights" highlight. But Maye can do much more. Exhibit A: a closing "I'm Still Here" that may be the best you'll ever hear, backed by a long lifetime of experience and a triumphalism that tempers the Sondheim acid. "Lord knows at least I was there, and I'm here." Baby, you know it.
Marilyn Maye appears at Michael Feinstein's 54 Below through May 20. For schedule, visit 54below.com.