Erin Beirnard and Kelly King photo: Svetlana Didorenko
by Marc Miller
While the Tyrones suffer familial accusations, mistrust, and destructive love in the wrenching revival of Long Day's Journey into Night at the American Airlines Theatre, a Eugene O'Neill of a very different sort is on display at the Metropolitan Playhouse.O'Neill (Unexpected) consists of two early one-acts, Recklessness from 1913 andNow I Ask You from 1916, that show the great playwright not yet great. The twentysomething O'Neill is plowing through established genres, revenge melodrama and romantic comedy mixed with mild social satire, and, particularly in Now I Ask You, making rather a mess of it. Those of us who love O'Neill will enjoy watching him learn his craft. But don't expect any undiscovered masterpieces.
Recklessness is the more O'Neill-like of the two, a 35-minute curtain raiser about adultery and the unfettered power of the rich. Arthur Baldwin (a solid Kelly King) has returned from a business trip to his Catskills mansion, where his maid (Eden Epstein), having been thrown over by the chauffeur (Jeremy Russial) for Baldwin's young wife (Dylan Brown), informs Baldwin of the assignation, with murderous results. Four unlikable characters, each displaying a profound lack of morality by then-contemporary standards, meet with rather predictable fates, though the plot mechanism that brings about two deaths is a little shaky (how does Baldwin knowthe chauffeur will crash the car?).

Erin Beirnard and Jeremy Russial photo: Debby Goldman
The actors do well, with Epstein's vindictive servant especially intense, and director Alex Roe, who also designed the OK set, has them play convincingly in period. The ending's meant to provoke, and Baldwin's vengeful callousness is indeed pretty shocking. Along the way, O'Neill entertainingly indulges in both awkward exposition ("He's gone to the garage! They're meeting!" exclaims a character, informing us of what's happening offstage) and racy 1913 behavior (women smoking, and lines like "Drive to hell, you bastard!"). It's a small play, but it hangs together, and it's preferable to…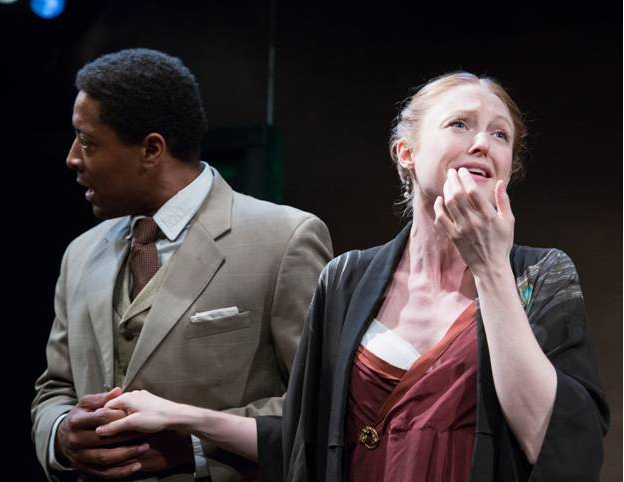 Terrell Wheeler and Emily Bennett photo: Svetlana Didorenko
Now I Ask You, O'Neill's overextended (90 minutes) attempt at the sort of drawing-room farce the likes of Elmer Rice and Cyril Harcourt were turning out at the time. It opens with an apparent suicide and flashes back a year, but that's O'Neill being deliberately deceptive. Nobody dies, and the tone is, or is meant to be, predominantly light and mischievous. Lucy Ashleigh (Emily Bennett) is to marry up-and-coming businessman Tom Drayton (Terrell Wheeler) the next day, to the utter relief of her parents (David Murray Jaffe and Kim Yancey-Moore). She's flighty and immature and into newfangled social trends.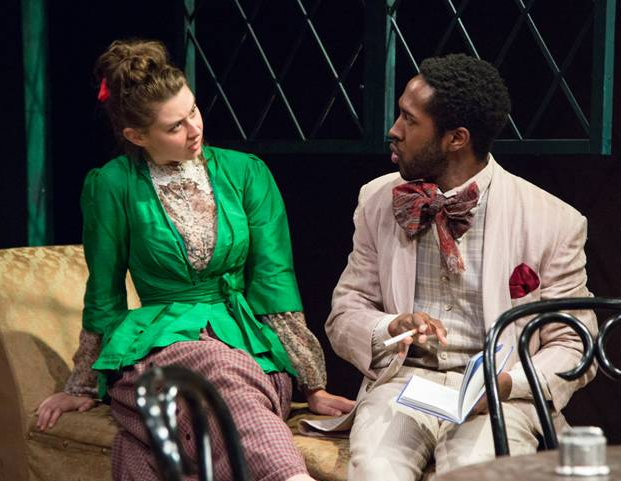 Dylan Brown and Eric R. Williams photo: Svetlana Didorenko
And that's about to cause trouble. Under the influence of Leonora, her modernist painter friend (Dylan Brown), and Gabriel, Leonora's live-in boyfriend, a bad romantic poet (Eric R. Williams), Lucy decides she'll accept Tom only if he accepts a free-love contract. Shocking! It gives O'Neill a chance to bring up all sorts of then-provocative subjects—birth control, Nietzsche, psychoanalysis—and it keeps the plot chugging. But there's really not much going on.
O'Neill hasn't yet learned to write funny lines (something that doesn't happen untilAh, Wilderness!, and even there it's a very gentle humor); about the best he can do is have Lucy grumble, "I suppose I'll be respectable, when I'm too old to be anything else." He does strike a blow for women's rights, with this: "It's high time women refused to be treated as dumb beasts with no souls of their own." And he has one good situational joke: Leonora and Gabriel are actually married, but they're too embarrassed to admit it to their bohemian friends, so they pretend to share their Greenwich Village studio in sin. The talk is awfully small, though, and the plotting (to scare Lucy off her flirtation with Gabriel, Tom pretends to take an interest in Leonora, thereby spurring Lucy's jealousy and sending her back to conventional ways), while presumably meant to titillate, comes off like very early sitcom. Lucy, Leonora, and Gabriel are all immensely irritating characters, and Roe encourages them all to play as shrilly as possible.
It helps considerably that Wheeler's Tom is dignified and restrained, and Yancey-Moore is splendid, investing this wise, thoughtful mom figure with more gravitas and contemplativeness than O'Neill afforded her. About that suicide, by the way: The gun wasn't loaded, but the chauffeur outside (Russial, lingering on fromRecklessness) punctured a tire at the precise moment the trigger was pulled, scaring the offstage characters and convincing the potential corpse that it went off. Now I ask you, Now I Ask You, how possible is that? O'Neill got better, fast, and watching him grope his way through these two somewhat unpromising genre plays isn't without interest for us fans. But if you want to see him really strut his stuff, better stick to the American Airlines.
Total running time: 2 hours 15 minutes, with one 10-minute intermission.
O'Neill (Unexpected) plays through June 26 at the Metropolitan Playhouse, 220 E. 4th Street. For tickets, visit metropolitanplayhouse.org/tickets.