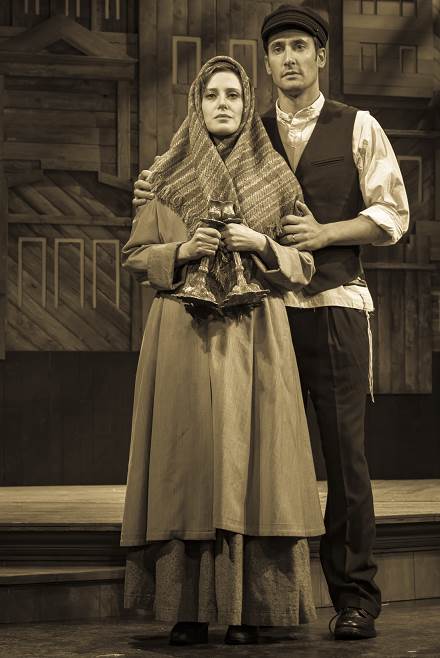 †††††††††††††††† Reviewed By Eugene Paul
In the wide embrace of Theater, the chronicle play has held its coveted, premier position for centuries, despite sudden flashes of brilliance by other modes that grab the main light. Producer Andrew M. Horn and director Joe Brancato, in their prime, start their thirty-ninth season longer in the tooth, wiser in the head, with a particularly sagacious choice, The Immigrant, warm, humorous, touching, an early Penguin Theatre success from thirty years ago they see as more significant than ever.† Theyíre right.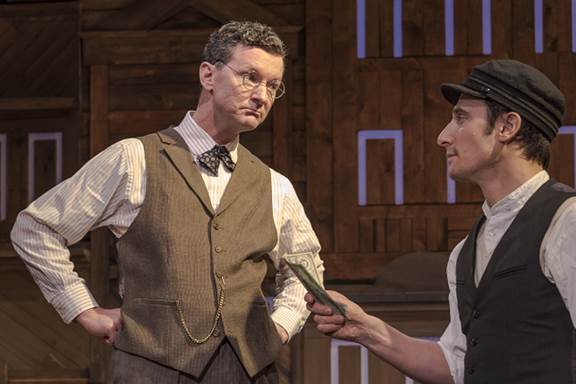 Bill Phillips & Jasin Liebman†††††††††††††††††††† photos by Dorice A. Madronero
It is the story of Haskell Garelik, young Russian Jew fleeing Czarist Russia in 1909, shrewdly entering the United States, not through the teeming crush of Ellis Island but 1500 miles away, through spare, open Galveston, Texas. He is alone.† Knowing no one. Speaking no English. Oh, yes, ďBananas! One Penny!Ē He has invested his last coin for a squeaking wheelbarrow and a clutch of dockside bananas also newly arrived. He has to earn his way.† No roof.† No bed. A half empty canteen of water.† The long, rough, open road leads to where he cannot take another step. Itís as far as he can go:† Hamilton, Texas, population 1206.† No Jews.
And if it hadnít been for the warmth, kindness, but definitely the curiosity of sweet Ima Perry (simply charming Tina Johnson) who knows what would have happened to him.† Motherly Mrs. Perry sees a needy young man (remarkable Jason Liebman), filthy, hungry, thirsty, canít speak proper American† at all, and does what she has to do, which includes wheedling her husband, Milton, bit of a stiff necked, stuffy, worry wart local banker (splendid Bill Phillips) into allowing young Haskell stranger† to use a corner of their barn for shelter.† For a price, of course. Itís the only way Milton would agree.† So Ima buys all Haskellís bananas. Suddenly, he† can pay rent.† The bargaining scene between Haskell speaking Yiddish and Milton speaking reluctant Texan (thereís a heart of gold under that gruff and proper exterior) is one of the early highlights of the play.† Milton doesnít know quite how it comes about that he takes young Haskell under his bankerís wing. A Jew?† Whatís that? Just a curiosity in this part of the world. Ima and Milton Perry like this† endearingly brave young man.
Melissa Miller &† Jason Liebman
Grateful Haskell reciprocates their warmth, works harder, learns English.† Itís not enough.† He prays, alone; but† itís not enough, to try to pray alone. He can work harder if he looks more American. And thatís not enough.† He needs his wife with him. As soon as he can, he sends for her, young Leah (tenderly charming Melissa Miller).† Who is so wretched in this dusty, little, bleak Texas town she wants to go back to the misery she knows in bleak, oppressive Russia. It takes the patient kindness of the Perrys and the arrival of babies, year after year with Milton and Ima firmly standing by these new Americans† right here, in Hamilton, Texas. Pop.: 1212. Six Jews.
And as Haskell grows in confidence and security, he chafes under the constant guidance of Milton, whose paternal hand feels heavier and heavier until the break erupts at what was supposed to be a† sentimental Seder† in Haskell and Leahís home with Ima and Milton as happy, honored guests.† ďI am not a case, I am a man!Ē, Haskell proclaims. As, of course, they all know.† The split with Milton, however, is devastating.
Playwright Mark Garelikís warm, deeply touching story of his grandfatherís life in America has been mounted with the rich care it deserves under director Brancatoís empathic, sensitive guidance, its relevance to our lives today, clearly, delicately drawn. He is ably abetted by costume designer Patricia Doherty chronicling the years as they go by.† Brian Pratherís setting frames the key closeness of the Perry and Garelik families. Yes, thereís an emotional reconciliation. Thatís what a good, chronicle play can do.† You have laughed, youíve smiled, you have shed a tear, youíve been taken on a journey. In skilled hands, a barn theatre can not only reflect on the world, it† be the world.
††††††††††††††††††††††††††††††††††††††††††††††††††††††††† *
The Immigrant. At the Penguin Rep Theatre, 7 Crickettown Road, Stony Point, NY 10980. Free parking. Air conditioned. Wheel chair accessible. Tickets: $43. 2 hrs. Thru June 12.