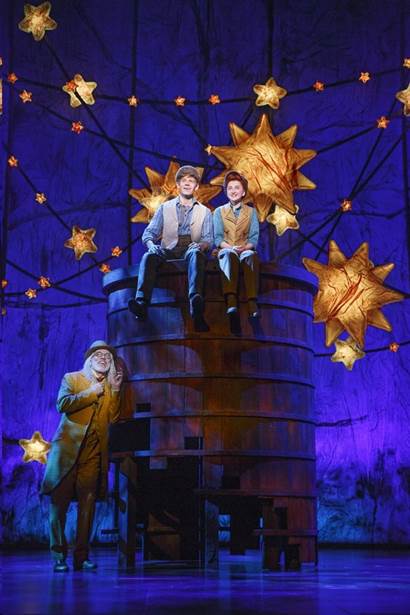 Andrew Keenan-Bolger as Jesse Tuck, Sarah Charles Lewis as Winnie Foster & Terrence Mann as Man in the Yellow Suit
                                              Reviewed by Eugene Paul
In the best of all possible worlds, Tuck Everlasting should turn out to be a big, welcoming hit for everybody, especially families with children, playing forever at the welcoming Broadhurst, home to the nicest staff in town (thank you, Jerry, thank you, Janice, thank you all) (didja ever have a sciatica attack in the middle of a show?) The show comes close – well why shouldn't it, award winning director and choreographer Casey Nicholaw at the top of his form staging an electrifier rowser that fires up the first act, and in the second, a haunting, enchanting, utterly satisfying ballet capturing the entire show.  In between, a cast that can do no wrong, especially the wrongest of them, show stopper Terence Mann as the serpentine, evil, lecherous, avaricious, snake oil salesman, the Man in the Yellow Suit, funny and frightening. Costume designer genius Gregg Barnes creates this epitome of funny malevolence, along with a wealth of costumes that tell stories, from delicate to bodacious. And then, there's set designer Walt Spangler's enchanting  story book settings. Everything  grand for a big hit, right?  Well, almost.  What do you do when there's too much of a good thing? (Now, isn't that a nice complaint…)(And isn't that what the show's about…)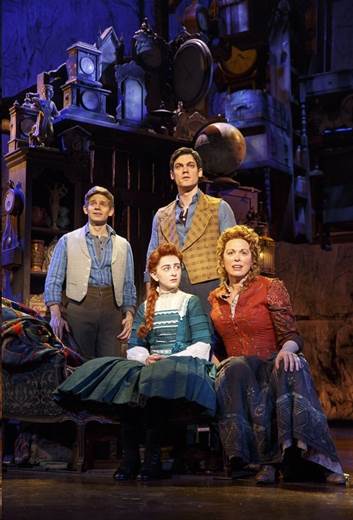 Andrew Keenan-Bolger as Jesse Tuck, Robert Lenzi as Miles Tuck, Sarah Charles Lewis as Winnie Foster & Carolee Carmello as Mae Tuck
First of all, you have to meet the Tucks, Mae Tuck (splendid Carolee Carmello), she's this fey, mother, and Angus Tuck (grand Michael Park) is her story book, wild husband.  They're the parents of   glowery Miles ( big voiced Robert Lenzi) and their "teen ager" baby boy Jesse (endearing Andrew Keen-Bolger). Thing is: boy Jesse may look 17 but he's really 117 years old. And that's the problem. Writers Claudia Shear and Tim Federle have taken Natalie Babbitt's widely popular children's story (2,000,000 copies!) and fashioned it into a widely appealing musical with the sterling help of Chris Miller"s  countrified music and Nathan Tysen's neatly  fitted lyrics.
All the Tucks have drunk from the secret  spring in the woods that belong to eleven year old Winnie Foster (Sarah Charles Lewis) and her parents – well, her widowed mother (Valerie Wright) and her Nana (Pippa Pearthree) still in mourning for Winnie's father, and Victorian mourning goes on and on. None of Winnie's family, not even Winnie, knows about the secret spring, the spring of eternal life.  Only the Tucks know,  always having to  hide or move when people notice they're not getting any older. Which is why they've been living in these woods. Winnie, who has run off to the woods, tired of being in a house of  mourning, spies Jesse  sitting up on a branch of a tree, thinks he's a seventeen year old heart throb, has an instant crush and Jesse thinks she's kind of wonderful, too, but since she's only eleven, he'll wait until she's seventeen . No time at all. If you're a Tuck. He's tired of always having to hide. What would be the harm of him going with  young Winnie to the carnival that just came into town.  He could be—seventeen. For a little while.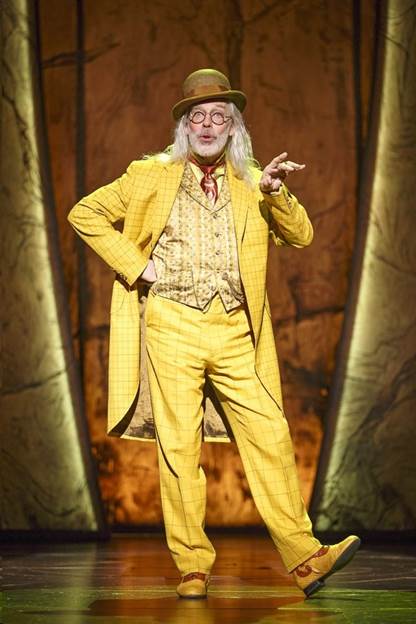 Terrence Mann
The Man in the Yellow Suit has come with the carnival, too.  And has his own carnival trick.  He looks into a person's eyes and tells them how old they are. Of course, Winnie wants Jesse to look into the eyes of the Man in the Yellow Suit, and he does and the MITYS is astounded. Jesse runs off, pulling Winnie. Old Yellow Suit follows. He must know why, how, seventeen year old Jesse is a hundred and seventeen. He'll do anything  for that secret.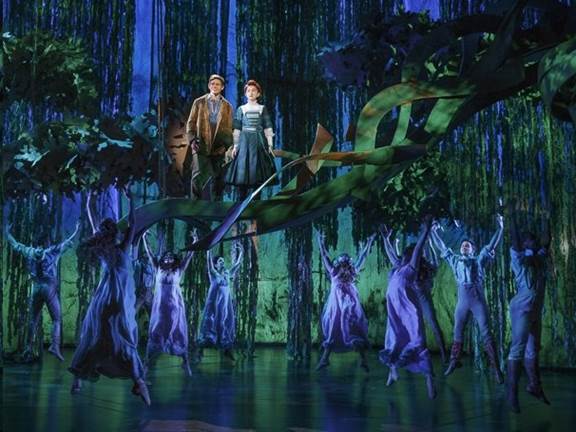 Photos by Joan Marcus
Book writers Claudia Shear and Tim Federle have so much to tell us up front that it takes a while for things to liven up but when they do, you're pulled into their story. Your story. All of us wonder at some point what it might be like to  live forever and when young Winnie stays with the Tucks, she's reluctant to go back to her sad reality.  But which is more enchanting? How could it be everyday life?  With all its burdens?  Or is it eternity? Ah, but to live forever has it burdens, too. Eleven year old Winnie has to choose. And all of the audience is rapt choosing. Nothing quite like it.
                                                          *
Tuck Everlasting. At the Broadhurst Theatre, 235 West 44th Street. Tickets: $59-$147.212-239-6200. 2:30 hrs. Open run.
                                                          *