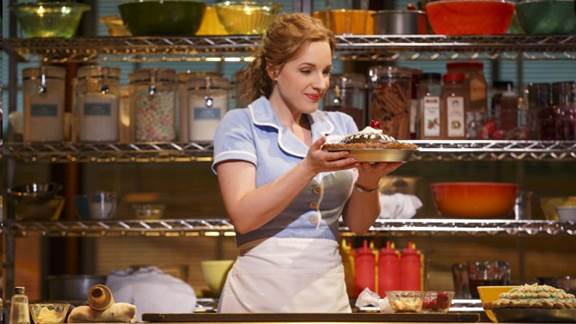 Jessie Mueller                                                       PHOTOs by JOAN MARCUS
                                          By David Schultz
The treacle infused 2007 indie film by writer-director Adrienne Shelly, has been transformed into an emotionally resonant Broadway musical. Director Diane Paulus has whipped up a crackerjack cast, and with a deft touch erased the bad memories of the film. This musical fairytale of a woman's coming to terms with her constricted marriage and need to break away from it is overly familiar, but told in musical terms with an inspired performance by leading actress Jessie Mueller, it surely seems as fresh as the piping hot pies she churns out on a daily basis.  
Film aficionados can certainly see the familiar echoes from the 1974 film "Alice Doesn't Live Here Anymore", and the television hit "Alice". This musical is akin to comfort food; it gives the audience sustenance as the evening wears on. Is it imaginary, or is there a definite scent of baking pies wafting throughout the theater? 
Jenna (Jessie Mueller), married to boorish lout Earl (Nick Cordero), dreams of leaving her husband. The temptation of entering a pie contest with a $20,000-bucket of cash for the winner dangles in front of her…. her co-workers think she can enter and win. The discovery of her early pregnancy changes everything, and suddenly the thought of further entrapment to Earl looms like a death trap.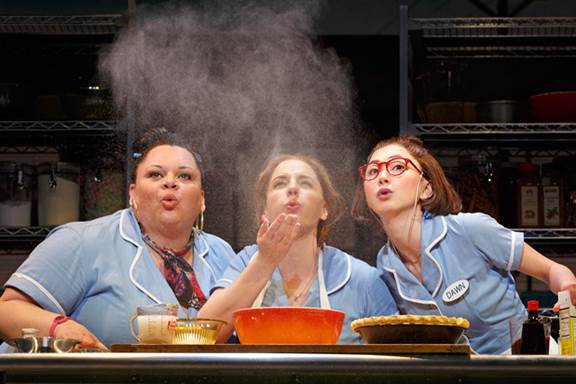 Keala Settle, Jessie Mueller and Kimiko Glenn
Jenna's feisty co-workers Becky (Keala Settle) and Dawn (Kimiko Glenn) give her encouragement as she attempts to keep her impending baby news from the busy body patrons and the surly diner boss Cal (Eric Anderson).
Dakin Matthews & Jessie Mueller
A regular elderly patron Joe (Dakin Matthews) enjoys ribbing and making curmudgeonly comments to Jenna with his complex food requests. He will surprise Jenna in an unexpected way near the close of the play. The new gynecologist, Dr. Pomatter (Drew Gehling) that has taken over the practice meets Jenna in an awkward initial meeting. The sense of someone new that can perhaps take her out of her misery has an unusual appeal to Jenna. An erotic charm builds between the two of them and inexplicably a romantic liaison progresses full steam ahead…. even though the eventual knowledge of his marriage to a fellow doctor eventually dampens their ardor.
The comical romantic exploits of co-workers Becky and Dawn are given their full due, with Becky having a secret affair with Cal, and Dawn trolling the internet trying to conceal her inner geek to attract a man. She indeed finds her true soul mate in Ogie (Christopher Fitzgerald). This man's undying love and obsession for Dawn gives this actor full rein in an amusing song "Never Ever Getting Rid of Me", that astonishes with slapstick buffoonery and clockwork timing.
Drew Gehling and Jessie Mueller in 'Waitress'.
Jenna's increasingly tempestuous 'private' sessions with her Doctor lover take amusing turns as they attempt to hide their uncontrollable lust. Lanky, attractive, and a tad awkward, Dr. Pomatter is in thrall with Jenna and her pies…. an almost aphrodisiac spell comes over him as he devours her delectable pie creations.
Romantic subplots seem at times to overwhelm the proceedings, but the sheer buoyancy of the piece give the work an airy lightness. Abusive hubby Earl disappears for the majority of the show, but he does return in Act Two to ruffle Jenna's feathers and shows her what the painful future lies ahead for her if she stays the course with him. Ms. Mueller's eleven-o-clock ballad of sadness and regret ('She Used to Be Mine') is astonishing in its intensity with usual phrasing and real tears, it knocks the audience off its seats.   The entire show has been leading up to this epiphany.  
Book writer Jessie Nelson creates full-blooded characters from what initially seems to be stock, cardboard figures. This is no doubt helped by the impeccable choices for each role. Songwriter Sara Bareilles gives full rein to her folksy, country-infused score. She smartly calibrates her musical styling with amusing lyrics that complement each song. Set designer Scott Pask perfectly replicates the diner scenes, Doctor offices, and Jenna's dreary home with accurate touches. Scenes glide into one another with cinematic skill. Costumer Suttirat Anne Larlarb garbs the cast in accurate amusing clothing, the down to earth look seems to blend right into each performer.
The huge collective force that makes this musical rock is Ms. Mueller's performance.      The warmly confused, hopeful soulfulness just seems to emanate from this beautiful  actress. Chic-flick pie a-la-mode it might well be…. but it sure goes down easy, not unlike her specialty confection Mermaid Marshmallow Pie. 
Brooks Atkinson Theatre
256 West 47th Street
Ticketmaster.com  or 877-250-2929
WaitressTheMusical.com
Open Run