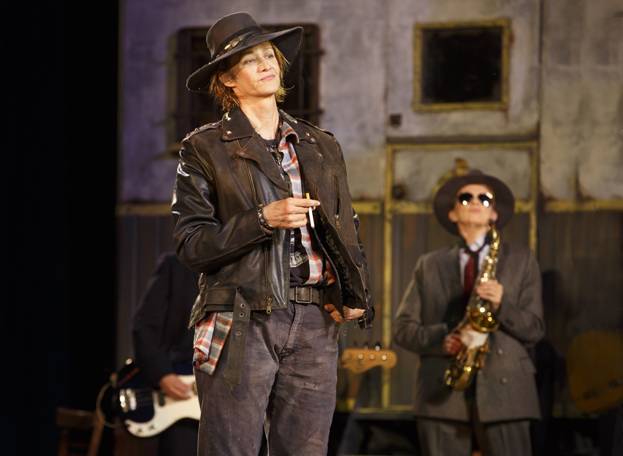 by Deirdre Donovan
There's nothing tame about Phyllida Lloyd's new gender-bending production of The Taming of the Shrew at the Public's Delacorte Theater in Central Park. With an all-female cast, Lloyd takes Shakespeare's early comedy about love and marriage and jazzes it up with a beauty pageant. And with Janet McTeer and Cush Jumbo playing opposite each other as the two eccentric lovers, Petruchio and Katherina, Lloyd gives a new twist to the drama.
Lloyd is that rare director who's equally at home in the commercial and classical theater worlds. Her mega-hit musical Mama Mia! enjoyed a 14-year run on Broadway and is still touring around the globe. Her more recent achievements are her "prison plays" that reimagined Shakespeare's Julius Caesar and Henry IV performed within the walls of a women's correctional institution by inmates. Originating in the West End, they had brief runs at St. Ann's Warehouse in Brooklyn. Now she pushes the theatrical envelope again with her Shrew. And, if she's not the first director to stage an all-female Shrew, she has the distinction of mounting it during the quadracentenary anniversary of Shakespeare's death.
Although the critic W. H. Auden claimed that The Shrew "is the only play of Shakespeare's that is a complete failure," many disagree with his harsh judgment. Cole Porter liked it so well that he wrote the music and lyrics for Kiss Me, Kate, a musical version of The Taming of the Shrew. And The Shrew has been a perennial on stage in various adaptations, including a memorable outing at the Delacorte with Raul Julia and Meryl Streep in 1978.
Janet McTeer and Cush Jumbo photos by Joan Marcus
Forgot the story? Well, it's basically a romantic tale in which we meet the merchant Baptista Minola of Padua and his two daughters: the elder—and shrewish--Katherina (wooed by Petruchio) and the younger—and supposedly sweeter--Bianca (triply wooed by Lucentio, Hortensio, and Gremio). Baptista has an embargo in place for any suitors of his daughters: His younger daughter Bianca can't be promised in marriage til Katherina is wed. The rub, of course, is that Katherina frightens off most eligible bachelors. But the mercenary Petruchio, who's "come to wive it wealthily in Padua," is not the least daunted by her wild and unruly nature. He rather likes her high spirits and plans to "woo her in her own humor." Remarkably, his strategy—showing her how ugly her shrewish behavior is—wins the day and heart of Katherina.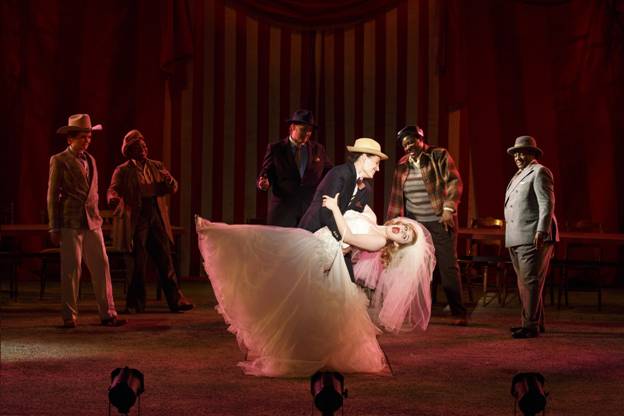 Rose Gilmore and Gayle Rainkin
They marry, Katherina undergoes a positive personality change, and we witness the evolved Katherina stepping into the role of a normal wife and educating recalcitrant wives to do likewise. In ironic contrast, Bianca, who's eloped with Lucentio, becomes more shrewish in the final scenes. And we are left to ponder just who is the real shrew of the play.
Lloyd's Shrew is smart and snappy. She omits the two-act Induction with its drunken tinker Christopher Sly, sacrificing the play-within-a-play conceit but strengthening her own vision of the Bard's play that intensely focuses on the battle of wills between Petruchio and Katherina. She creates a very streamlined production here that clocks in at only 2 hours with no intermission.
Janet McTeer (center) and the company
Though she jettisons the Induction with its imagery of Shakespeare's native Warwickshire, Lloyd comically beefs up the play proper with a beauty pageant competition, with pointed references to a front-running presidential candidate who was once a beauty pageant mogul. Indeed, the pageant motif threads through the entire production and serves as a reminder that many men today (you know who you are) judge women by their physiques and looks rather than true character. This show-within-a show adds a lot of political texture to the drama, largely because the voice-over for the emcee is a parody of a former Miss Universe pageant owner. Yes, the same bigwig who is running for president this year.
Shifting genders, the femmes on stage do a remarkable job at impersonating all the dramatic characters tucked into the Bard's play. McTeer, as Petruchio, captures his braggadocio and cunning wit as he woos the contrary Katherina. Cush is ideal as Katherina, equally capable of projecting the wild outcast and, later on, the conforming wife of Petruchio. Other notable performances are turned in by Gayle Rankin, as the deceptively gentle daughter Bianca and Rosa Gilmore as Lucentio and the Musician. A shout out to Judy Gold as the pantaloon figure Gremio, who momentarily breaks character to complain about the production-in-progress being run by "chicks."
No question that Lloyd likes to rattle theatrical tradition here. And she has a fine creative team to support her in her daring venture. Mark Thompson wears two hats here as set and costume designer. His circus-styled set comes replete with trailers and the traditional striped bunting. And his costumes run the gamut from the glitzy to ragtag. Robert Wierzel's lighting is white-hot for the beauty pageant vignettes and Petruchio's's love tests but rightly tones it down for transformational moments of major characters. Mark Menards' sound design is at its best at the finale with an edgy rendering of Joan Jett's rock song "Bad Reputation." What could be better to serve as an anthem for any woman who dares to be, well, herself?
Okay, Katherina's Act 5 "obedience speech" troubles many modern women. And, yes, it does uphold the antiquated hierarchical relationship of men holding a higher rank than women in society and echoes St. Paul's epistle admonishing wives to submit themselves to their husbands. But put away those tomatoes, folks, and lend an ear to the speech's "undersong" (to borrow a term from the critic Harold Bloom). Katherina is more sophisticated than her words reveal at first blush. Rather than surrendering here, she is coyly accepting a social role as an ordinary wife, which hopefully opens the door to future marital happiness. Indeed she has found true love in Petruchio, who, in turn, reciprocates the sentiment. Surprisingly, Katherina's "obedience speech" dovetails with Ulysses "degree speech" in Act 1 of Troilus and Cressida ("observe degree, priority, and place"), and both echo with the Elizabethan world picture of rank and hierarchy. And, incidentally, Troilus and Cressida arrives at the Delacorte in July. So don't forget to mark your calendar for this darker comedy, which also explores a woman's role in society.
Returning to The Shrew, its humorous possibilities are freshly plumbed in Lloyd's savvy new production. And with its not-so-subtle jests aimed at a current presidential candidate, it perhaps can help you to reflect better on who might be the best man—or woman—to occupy the Oval Office after Obama exits next January.
Through June 26th.
At the Delacorte Theatre in Central Park at 81st Street at Central Park West or 79th Street and Fifth Avenue.
For more ticket information please visit www.publictheater.org.