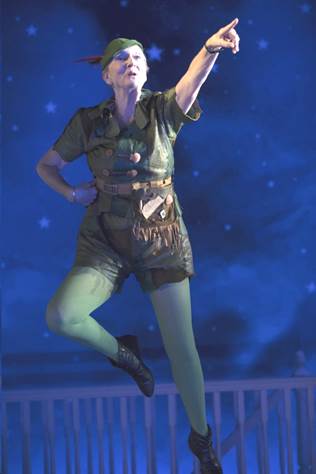 Kathleen Chalfant
(© Joan Marcus)
                             By Edward Medina
No amount of pixie dust can make this emotionally laden Peter Pan take flight.
Two time Pulitzer Prize finalist and Tony Award nominee author Sarah Ruhl wrote For Peter Pan as a gift to her actress mother Kathleen Kehoe Ruhl who, in real life, joyously played Pan long ago. The play opens with Ann (Kathleen Chalfant), representing the embodiment of Ruhl's mother, parting the closed curtains and stepping out to sweetly regale us with dulcet memories of her character's Pan performance. The moment was so natural and well-acted that one wasn't sure if this was part of the show or the beginning of a welcome to the Playwrights Horizons theatre.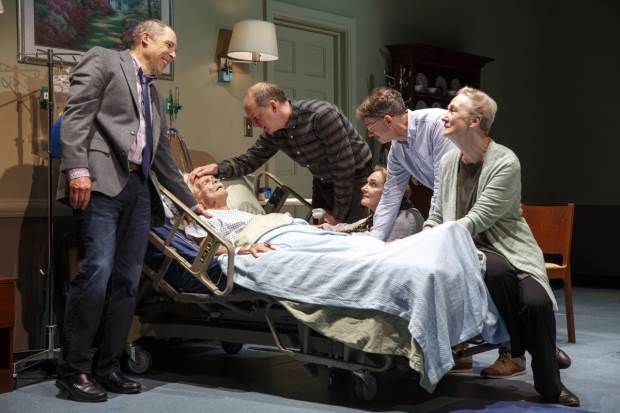 David Chandler, Ron Crawford, Daniel Jenkins, Lisa Emery, Keith Reddin, and Kathleen Chalfant
(© Joan Marcus)
Ruhl has set her semi-autobiographical drama, with hints of humor, within a framework of three movements. The first movement has us waiting in a hospital room with the family as they wait for their patriarch George (Ron Crawford) to shuffle off this mortal coil. It's a long wait. With many lingering silences. Too many of them. In between those silences we are introduced to each remaining member of the clan. They include sister, Wendy (Lisa Emery), and brothers Jim (David Chandler), John (Daniel Jenkins), and Michael (Keith Reddin). It's in these first moments together that we feel the hints of familial love and festering sibling rivalry that permeate their lives.
At the obvious conclusion of the vigil deceased dad sits up and gets out of bed. He takes a walk to the front door of the family's Davenport, Iowa home where he's greeted by the also deceased family dog, nicely played by adopted canine Macy making her New York theatrical debut. George and the pet then go inside. The father will physically yet silently haunt the remainder of the play like a specter at the awkward feast to follow.
After a clumsy set change, all done to a live trumpet solo of "When the Saints Come Marching" in, we arrive at the second movement and the family dinner table. It is there with handfuls of Chex Party Mix and copious amounts of Jameson whiskey that the now orphaned siblings truly let the catharsis fly in a verbal wake of suddenly forced adulthood.
This family venting is filled with remembrances both joyful and melancholy, growing expressions of sibling discontent and disconnect, a good dose of political regret for being both not enough or too liberal, and not enough or too conservative, in a world gone mad during the Clinton administration, and it's all blended together with a healthy mix of Irish Catholic guilt.
Its here that author and ensemble shine. These are all actors of a certain age and their real life skills and professional experience provide them with the tools to take what would at first glance appear to be a clichéd scene and make it sing off the page.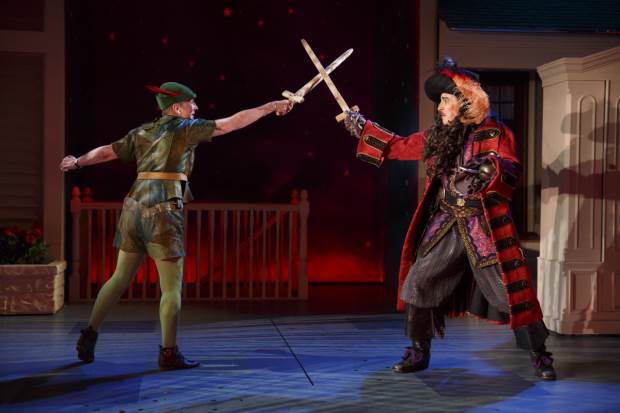 Kathleen Chalfant dukes it out with David Chandler in For Peter Pan on her 70th birthday.
(© Joan Marcus)
The third movement is somewhat magical but extremely perplexing. Its childhood fantasy rooted in the reality of age as the Pan story plays out in the children's bedroom. Each sibling has a part to play. Ann returns to her crowing self as Peter, siblings Wendy, John and Peter become their namesakes, and brother Jim becomes a fabulous Captain Hook, even the family dog takes a turn as Nana but nothing here can help save this lost elderly children's theatre-like conclusion.
Awkward moments abound in a crash of forced analogies, confusing concepts, and the technical requirements of attaching flying harnesses to both people and a bed. The clearly audible mechanical sounds of the pulley systems that make the magic of flight possible were painfully apparent. Whether this was deliberate to increase that feeling of encroaching reality or the theater space is just too small to absorb the mechanics involved will remain a mystery.
The end of all this returned us to a touching moment. With her brothers and sister choosing to return to being grownups Ann, as Peter, is left alone on stage to once again recall her original performance. She remembers the real magic of that moment. She remembers the audience, her friends' smiling faces, and her father coming up the aisle to bring her a bouquet of roses. Ghost dad does just that and speaks for the first time with words of support and encouragement to a young Ann as she embarks on the rest of her life. This then allows Peter to take flight once more leaving the pains of the real world behind.
There's a lot to be said about the Peter Pan myth and its connections to youth and lost youth, to living life and finding death, to hanging on and letting go. Unfortunately, this time, like a clumsy lost boy, the obviously gifted Ruhl overloads her quiver with tried and true tropes and takes aim at society's every day foibles, the structure of family, all the stages of death and dying, and the truths of how we can be our own worst enemies, but she ends up missing all the marks by half.
Under the direction of Ms. Ruhl's frequent collaborator, Les Waters, the production is at times a tedious mix of misfires and missed opportunities and yet at others one can almost see the distant shores of Neverland, the mermaids and Indians and pirates that inhabit that magical place, and one can truly try to believe that if we clap hard enough Tinkerbell will live again.
The physical production is supported by scenic designer David Zinn, costume designer Kristopher Castle, lighting designer Matt Frey, original music and sound designers Bray Poor and Charles Coes, animal trainer William Berloni and flight and fly director Ryan Bourque.
Playwrights Horizons - Mainstage Theater
416 West 42nd Street
Tickets: $59-$99
www.playwrightshorizons.org
212-564-1235
August 18 – October 1, 2017