Jessica Fontana, Ann Harada, Lilli Cooper, Santino Fontana, Vishal Vaidya
                               by Julia Polinsky
Lyrics & Lyricists at the 92nd Street Y has long been the gold standard for celebrations of the American songbook. They're lovely anthology shows: a couple of hours of superb (mostly) songs, sung by terrific (mostly) singers, backed by an excellent cabaret jazz combo, interspersed with some illuminating (mostly) text about the lyrics and their creators. Some projections, some horsing around among the ensemble, a little staged movement. What's not to like? Reliable, popular, and consistently enjoyable, who could blame Lyrics & Lyricists for resting on its considerable laurels?
It's a bit surprising that those laurels tarnish, even with the extraordinary Santino Fontana as creator and featured performer. The man is a force of nature, talented almost beyond belief, and with excellent taste in songs. He has everything you could want in a modern-day leading man. So, under the direction of Gina Rattan, he leads an ensemble of accomplished singers; Lilli Cooper, Jessica Fontana, Ann Harada, and Vishal Vaidya share the stage with Fontana, singing these lovely, lovely songs.
Such songs! The show may be about Rodgers and Hart in New York, but it's love song after love song, so really, it's about how Rodgers and Hart loved New York. Native New Yorkers, Rodgers and Hart met at Columbia University, started writing shows together, then went on to write dozens of shows and over 600 songs. Some of those songs have been recorded hundreds of times; they're the soundtrack of the 20th century, with early success in the 20s and 30s and a renascence in famous jazz recordings of the 50s and 60s.
Those jazz recordings lay the foundation for the show, and the songs are sung in that '50s-hip jazzy style, to terrific arrangements by David Chase. The ensemble, led by music director and pianist Andy Einhorn, swings so hard it's tough to sit still. 
That catalog of wonderful songs is interspersed with a little narration – curiously lighthearted, considering the short, less-than-happy life of Lorenz Hart, who was alcoholic and depressive, not to mention gay when being gay was dangerous. Hardly a cheerful life, but he wrote many, many cheerful lyrics.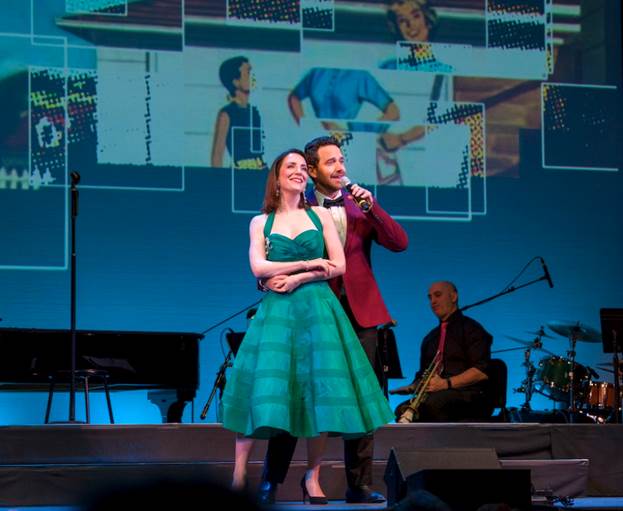 Jessica Fontana and Santino Fontana         Photos by Richard Termine
Lighthearted works just fine in this show, even in the wistful "Glad to Be Unhappy," beautifully sung by Santino and Jessica Fontana, or the murderous "To Keep My Love Alive" and fiery "Everything I've Got", in smashing performances by Lilli Cooper. Silliness like "Mountain Greenery" or "I Gotta Get Back To New York," sung by the whole company, prepare us for the wonderfulness of "With A Song In My Heart," led by Santino and filled in by the whole ensemble, or the terrific "Where or When," an out-of-the-park close to the show.
When it works so well, it's just terrific. When it doesn't? Well, that's where the laurels of Lyrics & Lyricists show their tarnish.
First, the sound engineering, or lack of it. In a show that's all about music, to have the sound balance between the singers and the band be so bad is inexcusable. More than half the time, it's all band, band, band, and you can barely hear the lovely lyrics, the pretty tunes. Something about the placement of the instruments on stage sends the sound out over the singers, and between the loudness of the instruments and the sub-par sound system In the Kaufmann Concert Hall at the Y, it's hard to hear the singers.
Not only that, but the singers themselves waffle between sublime and wait, what? When did it become acceptable for a singer to breathe in the middle of phrases, or worse, just before the end? It happened over and over, and grates on the ear like sour notes. The show's about LYRICS. Sing them. Well.
Most of the singers sell the hell out of their songs, which made the wooden singing in Vishal Vaidya's first three numbers stand out. Not in a good way. His tight throat, shallow breathing, and rough high notes don't do him any favors. And then: in his last two songs, he puts out two lovely performances – "I Didn't Know What Time It Was" and "The Most Beautiful Girl in the World." Beautifully done, those two.
Ann Harada sings with such verve and fun, all giggly and sweet and cuddly, you just want to hear her sing again and again. Lilli Cooper's smooth delivery and exciting personality make anything she sings sound terrific, and she does great stage business.  
The power players of the evening are, of course, Santino and Jessica Fontana. His luscious baritone complements her soaring soprano. Duet or solo, they're just terrific – Santino does a truly lovely "My Funny Valentine" accompanied only by himself on piano, while Jessica's "Falling in Love With Love" knocks a little plaster off the ceiling. Oddly, they pair up, only once, for "Glad to Be Unhappy," in a splendid arrangement.
Andrea Hood gets credit as Costume Consultant; the primary solid colors of those costumes, particularly the ladies' dresses, brighten the stage. Lighting design by John Kelly is a little hit or miss, and Dan Scully's projections are mostly excellent, barring a long focus on a ladies room, an odd choice to background "This Can't Be Love."
The whole evening showcases only a couple of dozen songs; what makes it so satisfying must be the quality, simplicity, and charm of those lyrics, Hart's painting with words.  Lyrics & Lyricists needs to make sure you can hear them, so they can touch your heart.
We'll Have Manhattan: Rodgers & Hart in New York
Lyrics & Lyricists at the 92nd Street Y
1395 Lexington Avenue
New York, NY 10128
https://www.92y.org/event/l-l-we-ll-have-manhattanwww.brokenboxmime.com
23-25
https://www.92y.org/event/l-l-yes-i-can
Future Lyrics & Lyricist events:
Yes I Can: The Sammy Davis, Jr. Songbook
Feb 23-25
https://www.92y.org/event/l-l-yes-i-can
Sondheim: Wordplay
March 30-April 1
https://www.92y.org/event/l-l-sondheim
A Beautiful Dawning: Oklahoma! At 75
May 4-6
https://www.92y.org/event/l-l-a-beautiful-dawning-oklahoma-at-75
Live and in Living Color! Songs from TV
June 1-3