Phylicia Rashad in Skeleton Crew
Photos: Matthew Murphy

Skeleton Crew

                by Deirdre Donovan

Hat's off to the Manhattan Theatre Club for bringing us Dominique Morisseau's searing new drama, Skeleton Crew! With a superb cast led by Phylicia Rashad, this play about a tight-knit working family in uncertain times, is profoundly moving and altogether real.

Set in Detroit, Michigan, during the economic recession of 2008, the play brings before us four workers in a small automotive stamping factory that is on the brink of foreclosure. There's the fifty-something Faye (Phylicia Rashad), the sharp-tongued union representative who has worked at the stamping plant for 29 years and hopes to retire with a decent retirement package. Then there's the volatile Dez (Joshua Boone), a hustler in his late twenties who's saving up to open his own auto repair shop, although his insubordination at the plant could cost him his job. Idealism lives somewhere in Shanita (Chanté Adams), a single woman in her twenties who can be summed up in 3 p's: pretty, pregnant, and a powerhouse on the job. Overseeing these three blue-collar workers is the compassionate Reggie (Brandon J. Dirden), a foreman in his late 30s, and a family friend of Faye's, who's in the uncomfortable position of having to break the news to the workers that the stamping plant is soon to close its doors.
(left to right: Brandon J. Dirden, Phylicia Rashad
Photo: Matthew Murphy

The direction by Ruben Santiago-Hudson and the acting—particularly by Phylicia Rashad and Chanté Adams—are spot-on and make for lively entertainment from the get-go. It is unnecessary to summarize the plot in detail. But it plays on the themes of trust, survival, disturbed relationships of all kinds, and the nightmare of not being able to pay the monthly bills, all of which becomes sufficiently clear to viewers.

What is astute in Morisseau's handling of her subject is that she's not afraid of showing her characters, warts and all. Whether it's Faye sneaking a cigarette in the breakroom (in spite of the fact that she's currently in remission for breast cancer), or Dez concealing a gun in his backpack (he keeps it for his personal protection on the streets), we see these flawed individuals struggling with their toxic habits and fears and yet still can recognize their deep humanity, not to mention their ability to move forward in situations that would make the biblical Moses pause for inspiration.

The point to be made clear about this production is not the flawlessness of its constituent elements (although the actors and creative team have admirably done their jobs) but the soundness of Morisseau's conception and the execution of the whole. There are no loose ends in this play. Its narrative is air-tight, the black characters fully-realized, and the playwright never toppling into melodrama or excessive sentimentality. Skeleton Crew is the final play in Morisseau's Detroit Project, her 3-play cycle, and it may well be her best.

Those theatergoers who saw it in its Off Broadway iteration at the Atlantic Theatre Company in 2018 will be pleased to hear that the play has seasoned well, with almost all of the creative team still on board in this Broadway outing. Yes, there are replacements for all of the principals in the cast: Tony Award winner Phylicia Rashad, up-and-comers Chanté Adams and Joshua Boone, and the reliable Brandon J. Dirden. But Ruben Santiago-Hudson, who also helmed the Atlantic Theatre's outing, has chosen his Broadway cast wisely. What's more, he has managed to retain the intimate feel of the Off Broadway production for Broadway's more capacious Samuel J. Friedman Theatre. No easy task, to say the least.

Although the four principals in the cast carry the weight of the play, there's a fifth character here—Adelsola Osakalumi--and attention must be paid! Osakalumi performs a factory line dance in silhouette (lighting by Rui Rita) to the toe-tapping sound of Midwest hip-hop music (original music and sound design by Robert Kaplowitz). We first see him in the opening scene, but he will return at intervals throughout the drama, his mechanical dance routine acting like a mirror to the psyche of the characters who suddenly realize that they are not irreplaceable, after all. Osakalumi's mechanical line dance is by far the most eye-catching image on stage, and it effectively points up the paradox that exists at the stamping plant: The stamping factory needs dedicated human workers to make it run, but it is totally incapable of caring for their very human needs (think money) once it closes.

Yes, there's a tragic undercurrent coursing through Skeleton Crew, and it can be heard most clearly when Shanita explains to Faye why she continues to work at the stamping plant, even though she has been offered a more secure job (and one less physically-demanding) at her cousin's copy shop: "Here, I feel like I'm building something important. Love the way the line needs me. Like if I step away for even a second and I don't ask somebody to mind my post, the whole operation has to stop. My touch … my special care… it matter. I'm building something that you can see come to life at the end. Got a motor in it and it's gonna take somebody somewhere."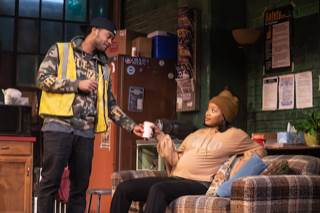 (left to right: Joshua Boone, Chanté Adams in Skeleton Crew
Photo: Matthew Murphy

Although the Manhattan Theatre Club has had other productions that have been more immediately engaging (think of this season's Lackawanna Blues), Skeleton Crew is a drama that hums with a social conscience and packs a hefty emotional punch at its denouement. In truth, no intelligent theatergoer should fail to see it.

Through February 20th, 2022.
At MTC's Samuel J. Friedman Theatre, 261 W. 47th St.
For more information and tickets, phone (212) 239-6200 or visit www.telecharge.com or in person at the Samuel J. Friedman Theatre.
Running time: 2 hours with one intermission.