(left to right) David Hess, Amanda Jane Cooper, and Price Waldman in The Streets of New York
Photo: Carol Rosegg
The Streets of New York
A Review by Deirdre Donovan

Charlotte Moore, director and co-guiding spirit of the Irish Repertory Company, is to be congratulated on yet another fine production--this time her musical adaptation of Dion Boucicault's melodrama, The Streets of New York, a theatrical piece that speaks to our unsettling times perfectly.
Now tucked in at the Francis J. Greenburger Mainstage through January 30th, it is a holiday musical with a big heart and bigger message.
The last time The Streets of New York was staged at the Irish Rep was in the wake of 9/11. So what better time than now, with omicron on our minds, to revive this chestnut that celebrates the resilience of the human spirit.
As the Prologue opens, it's the Panic of 1837—and all the banks in New York are failing. We meet corrupt bank owner Gideon Bloodgood who plans to close his bank and hightail it out of New York with his investors' money. But right before the banker can execute his plan, he commits a despicable crime: he steals $100,000 from a sea captain named Patrick Fairweather (Daniel J. Maldonado), who had entrusted the large sum to the banker for the financial well-being of his wife and two babies. Fairweather, realizing too late that Bloodgood is a crook and that his life savings is stolen, tragically dies of apoplexy in Bloodgood's private office.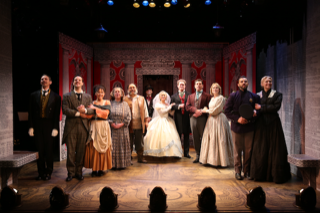 The cast of The Streets of New York
Photo: Carol Rosegg
Of course, there is one witness to this deed, namely Bloodgood's cunning clerk (Justin Keyes). And, as fate has it, this clerk finds Fairweather's receipt signed by Bloodgood within his arm's reach, and astutely notes to the audience: "Ha! Here is the receipt signed by Bloodgood. As a general rule never destroy a receipt—there is no knowing when it might prove useful."
Enjoy watching a villain twist his moustache? Well, we watch plenty of moustache-twisting in Act 1, as the melodrama leaps forward two decades to the Panic of 1857. Bloodgood is living in luxury in Madison Square with his 20 year-old daughter Alida (Amanda Jane Cooper), with his financial investments doing splendidly. In contrast, the widow Susan Fairweather (Amy Bodnar), and her two grown children, Lucy Fairweather (DeLaney Westfall) and Paul Fairweather (Ryan Vona), live poor as church mice in the Bowery. Yes, this is the point in the story when the audience is supposed to take out their tissues and weep for Mrs. Fairweather and her adult children. After all, she knows nothing about the circumstances of her late husband's death, only that his corpse was mysteriously discovered on a New York street in 1837.
Spoiler alert! Good will ultimately triumph over evil in Act 2. But you'll have to buy a ticket to the show to see how the story takes some incredible twists before justice is served and young lovers find their matches.
Moore's original music and songs add more texture to Boucicault's melodrama. There are 15 songs in all, each varying in subject and tone. Some are rib-ticklers like the song "Oh How I Love Being Rich" in Act 1, sung by Amanda Jane Cooper's Alida with a Midas-like glint in her eye. Others are heartwarming like "Take Your Brother's Hand," sung by the ensemble with disarming simplicity. But, by far, the most affecting number is "Livingstone's Sermon" in Act 2, belted out by the character Mark Livingstone (Ben Jacoby) and the chorus: with a refrain that undeniably speaks to our pandemic times: "But we'll survive/ We'll stay alive…./God help us all!/ We'll never crawl/ We'll stay alive!" Indeed, one could hear that proverbial pin drop in the theater after the performers delivered this soul-stirring anthem.
It requires an able cast to pull off this musical. And, fortunately, Moore has lined up the right actors to do the job. David Hess, in the key role of Gideon Bloodgood, has the requisite acting and singing chops, not to mention the hamminess that brings his character to villainous life. Other standouts? DeLaney Westfall inhabits Lucy Fairweather with dewy innocence and unfeigned humility. Ben Jacoby infuses his character Livingstone with the right mix of sincerity and suaveness. Amanda Jane Cooper really knows how to chew the scenery as Bloodgood's spoiled daughter Alida. Richard Henry's Dermot Puffy is completely convincing as the baker, as is Polly McKie as his wife Dolly Puffy. A shout out to Daniel J. Maldonado, who does double duty as the Sea Captain and "bad boy" Duke Vlad, the latter role allowing him to strut his stuff on the dance floor with Cooper's Alida. But, truth be told, there's not a weak link in this feisty cast that is 12 strong.
When it comes to the creatives, kudos to Hugh Landwehr's multiple sets that smoothly morph from the streets of New York. . . to a banking house . . . to a luxury mansion on Madison Square . . . to the interior of Puffy's House on the Bowery. Michael Gottlieb's protean lighting washes the stage to serve each and every dramatic moment. Linda Fisher's costumes are a mix of finery, rags, and the ridiculous (think of the character Alida in a Victorian-styled hoop skirt that nearly takes up the entire stage).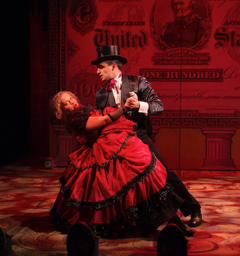 (left to right) Amanda Jane Cooper, Daniel J. Maldonado
Photo: Carol Rosegg
If the production has any flaws, it's that its fine cast was not altogether immune to COVID. Several performances of The Streets of New York had to be cancelled in late December out of an abundance of caution for all. Fortunately, the production resumed on December 29th.
While the cast and creatives deserve high-fives, Moore is the true star of this production. As director, composer, and song writer, she has managed to convert Boucicault's melodrama into an artful theatrical statement that literally can sing its way into your heart.
Through January 30th.
At 132 W. 22nd Street (between 6th and 7th Avenue), in Chelsea.
For more information, visit www.irishrep.org.
Running time: 2 hours; 20 minutes with one intermission.