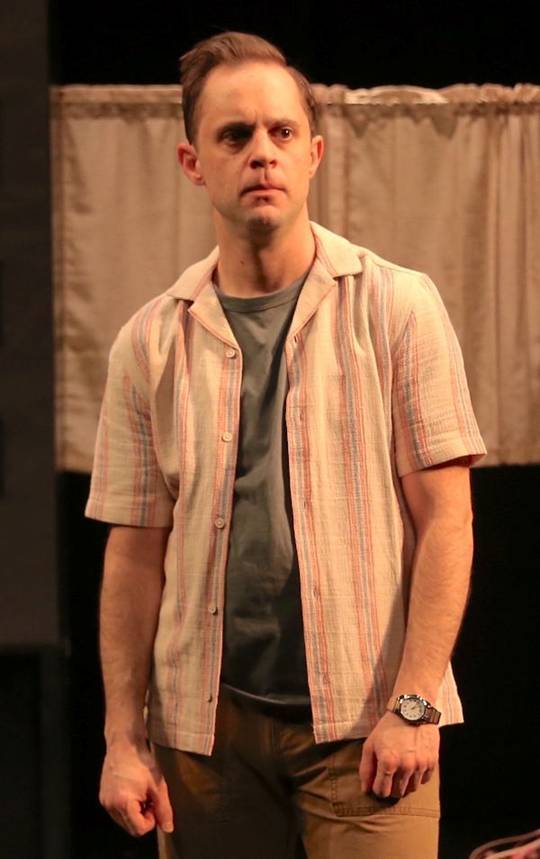 Ryan Garbayo stars as Jamie         Photo credit: Carol Rosegg


The Space Between Us
By David Schultz

Playwright Peter Gil-Sheridan harnesses a crackerjack cast in his newest play. He doesn't mind giving the work a patina of a sitcom vibe, at least at first. The characters seem familiar at the outset with a plethora of stereotypes that become more natural and empathetic as the evening wears on. All the players are revealed as the play begins at the racetrack as the setup for the night is laid out. Jamie (Ryan Garbayo) and his boyfriend Ted (Tommy Heleringer) meet up with Jamie's parents Frank, a Cuban immigrant (Anthony Ruiz), his wife Debbie (Joyce Cohen), and Debbie's sister a "Fun Nun" …Sister Pat (Glynis Bell), as well as Gillian (Alex Chester) a gal pal of the boys.
Anthony Ruiz (as Frank) and Glynis Bell (as Sister Pat).
Jamie makes a bold announcement with all in attendance that he is about to leave his high paying job as a corporate lawyer and work for an international health aid program to help and serve the African country of Eritrea as a way of penance for his unhappy job helping rotten folks get off easy in the legal world. Jamie defends his reasoning …"Defending corporate fat cats from lawsuits they deserve to lose is not important…It's practically criminal" No one thinks this is a good idea, though Sister Pat thinks his heart is in its right place. Ted a vigilant vegan and overtly politically correct minded fellow senses he will lose boyfriend Jamie. The parents naturally see this as an over-the-top mistake. One never senses why exactly Jamie has his altruistic leanings to do good. He does watch a lot of MSNBC and CNN, and this seems to be the catalyst for his newfound goal. In six brief scenes the characters bounce off of each other and try to decipher how to change this new major development, and change Jamie's mind.

The fact of Jamie's gay relationship is never a matter of contention for his parents. Though the playwright does touch on and riff quite a bit with the fathers' old-fashioned way of seeing things, he has loved his son from the get-go. In swiftly delineated scenes…a birthday party that goes awry, an unexpected hospital stay for Ted, a scene in that African country with Jamie and two unexpected guests, the drama mixes comedic moments to alleviate the tension between all involved. The shocking, at least to Jamie, revelation of his ill-fated decision to jump ship and do good in the world is sobering, to the audience as well. The expository driven dialogue in the early scenes gives way to a more naturalistic language in the later scenes. In retrospect all participants are walking around with blinders and not really seeing or hearing what is readily apparent if they only really stopped and listened to each other.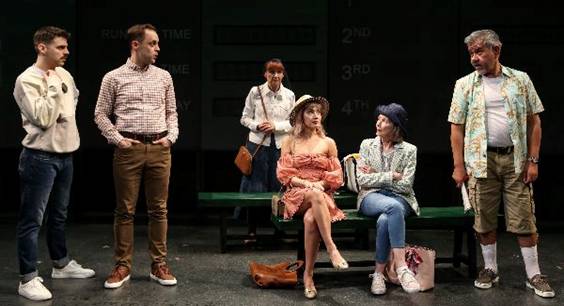 Tommy Heleringer (as Ted), Ryan Garbayo (as Jamie), Glynis Bell (as Sister Pat), Alex Chester (as Gillian), Joyce Cohen (as Debbie) and Anthony Ruiz (as Frank)
Brightly lit by lighting designer Daisy Long, the entire stage grows dark on various occasions with just a spotlight on Jamie as if to flash freeze his character in a pensive mood. It is an odd choice and jarring to the audience but portends this man's quixotic nature. Costume designer Rodrigo Munoz garbs the cast well in perfectly appropriate attire. Sister Pat's Wimple gets more than a few well-placed laughs in the production. Minimal set design by Steven Kemp takes full advantage of the small playing space at the theater at Theatre Row. Cast members work overtime as stagehands moving various props in and out of each scene.
Director Jonathan Silverstein marshals his diverse cast with expertise. As the evening draws to a close, one can finally see beyond the stereotypical tropes that initially jarred and see these fractured souls finally come to an understanding of who they are, and where they might be heading.
Playing At Theater Row, 410 West 42nd Street.
$40-$85 Keen Company.org       212 714 2442 Ex 45