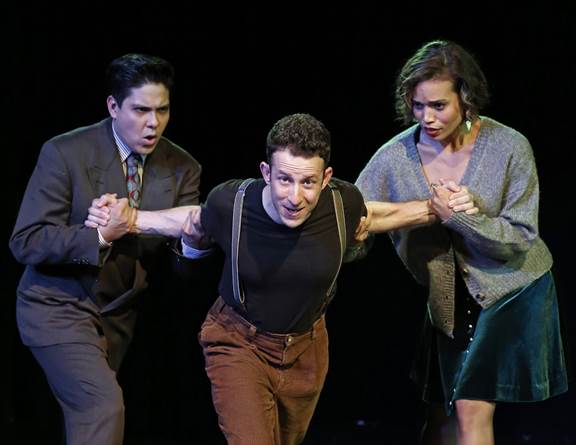 George Salazar, Nick Blaemire, Ciara Renee         photo by David Gersten
                                                           By Eugene  Paul
Bearing unmistakable signs of Jonathan Larson's original, passionate monologue depicting his delightfully awful struggle to do what he simply had to do: make words and music for the theater, Keen Company artistic director Jonathan Silverstein with the enormous help of David Auburn's script consultancy,  exultantly presents Larson's cry to the heavens and the theatrical gods as a three character triumph of resounding success. Larson ought to be looking down, beaming. He has high flying Nick Blaemire, George Salazar and Ciara Renee as the delicious triumvirate who are really many more than three sailing on music director Joe Chancey's inspired band's playing. They're so good you almost don't notice that this is twice a twice told tale. But then, what isn't.
Jonathan (electric Nick Blaemire) makes everything crystal clear in the first number,"30/90".  He is turning thirty.  The Great Divide.  And it's already 1990.  And his buddy Michael (awfully good George Salazar) is already making pots of money and living the highlife and he's still waiting tables, and, of course,  his girl friend, Susan (smashing Ciara Renee) wants to get married already.  All right, all right, I know,  but instead of driving you out of the theatre, you're enthralled with the incredible performance Nick is exploding all over the stage.  He's not quite Jonathan yet, he's just his own extraordinary self and that's plenty enough to egg you into wanting more and more .  And you get it.
Right away. Girl friend Susan whips off her little sweatery shrug and shazam! she's in a svelte green velvet dress and they are in a more super than svelte  next song, 'Green, Green Dress", what else? Which carries all of us into their not so novel oh so familiar dilemma but the music is so beckoning and the performers are so dazzling, you are ready to go wherever they go.  Right into "Jonny Can't Decide". Is Jonathan going to give up this fruitless quest?  He can't even get hold of his agent. But then, Jonathan segues into "Sunday", and you hear for yourself, the kid's got it.  There's unmistakable vibes that reach to another composer's "Sunday" but you don't even want to mention his name because this kid, Jonathan, is hurting so much and he's so damn good.
By now, you don't care that you know this story so well – too well – because the dynamic trio, Jonathan, George and Susan are so good.  George becomes Jonathan's father waiting for him to wake up and be sensible and Susan becomes, oh, a string of somebodies in Jonathan's life and so does George.  But director Silverstein keeps them so full of that old joie de vivre that you are full of it too if you'll pardon the expression, going with their rocketing all over the stage, just happy that the piano and the couch and the other big stuff is on wheels in order to be whizzable into different settings because what is a musical without different settings.  The true constant, Jonathan, is the core around which all else swirls and he is worth our constant attention,  he is GOOD.
Which is a total  complimentary complement to Jonathan Larson, composer, lyricist, book writer, a hugely missed talent. There isn't a moment that lays an egg in the fifteen songs that make up this refreshingly familiar musical, not only because the songs are sterling but because the company delivering them is also sterling, sterlingly presented. The costumes by Jennifer Pair are inventively altered and displayed to extend their unexpected versatility, which can also be said about the Dynamic Three.  Steven Kemp's setting accommodates not only the febrile antics Silverstein and choreographer Christine O'Grady demand of their wonderful trio but also Joe Chancey and his band, dimly upstage but vigorously forefront on the ears. Let us all remember that Tick, Tick…BOOM! came first, before the vaunted Rent that  catapulted Jonathan Larson to a fame made bitter by his untimely demise.
 Tick, Tick…BOOM! too, still carries his flame.
Tick, Tick…BOOM! At the Acorn, Theatre Row, 410 West 42nd Street.  Tickets:$85. 100 min.  Thru Dec 18. Telecharge.com.