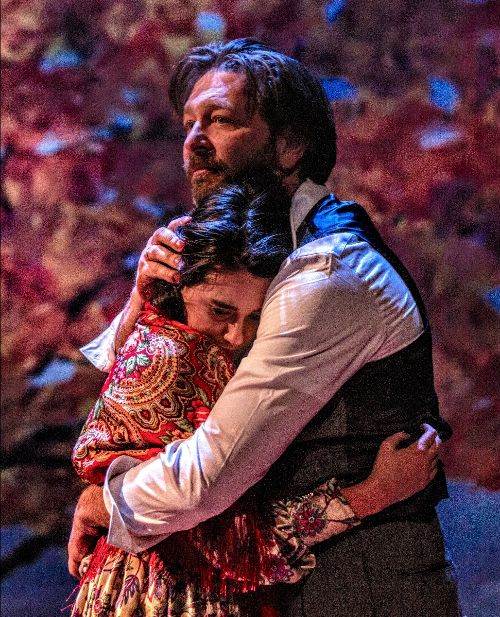 Anna Lentz and Alexander Sokovikov
Chekhov/Tolstoy: Love Stories
                                       by Arney Rosenblat
Though both plays examine different aspects of love -- the first by Chekhov that of eros or romantic love and the second by Tolstoy that of agape or self sacrifice, charitable love such as God for man and man for God -- underlying both works is the tug of war between social reformer and artist which is likely what drew the diversified actor, playwright, screenwriter and progressive activist Miles Malleson (1888-1969) to these short stories in the first place. Malleson embraced these fellow writers as humanists driven by questions about the role of art, and the duties of the artist, in times of social and political transformation.
Malleson explored an England reeling from World War I, as well as divided by class and gender. Chekhov and Tolstoy chronicled a pre-Revolutionary Russia confronted by a changing social order following the 1861 abolition of serfdom and they were driven by a "deep sense of duty to their fellows." Tolstoy even proposed a "universal art" that would "unite men with God and with one another."
Before he wrote the four plays that attained his theatrical immortality, Anton Chekhov had already written some five hundred short stories, the Artist's Story among them. The Artist is Malleson's adaptation of that story. It debuted in 1919 and tells the story of Nicov (played to perfection by the Russian actor Alexander Sokovikov) a painter who encounters two different women while trying to find meaning again in his work as an artist after retreating to the country estate of a wealthy contact.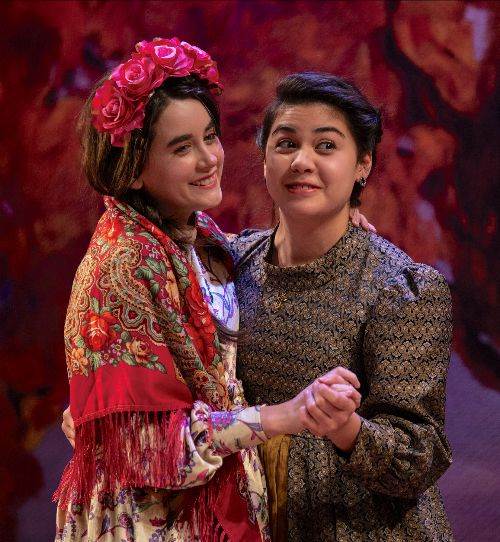 Anna Lentz and Brittany Anikka Liu
 The first is Genya (Anna Lentz) a pretty, good natured girl who passes time by reading and is attracted to what she perceives as the artist's worldliness, and the second, her dogmatic older sister Lidia (Brittany Anikka Liu) who ridicules the artist and questions the value of landscape paintings such as his in a world where people are poor and hungry. She herself has devoted her entire life to charitable endeavors. Her exchanges with Nicov reflect an icy passion.
Nicov (to Genya): "I'm afraid your sister thinks it a terrible waste of time, painting landscapes."
Lidia (avoiding a direct answer): "it's very pretty."
Nicov: "I think you'd like it better if there were a peasant or two in it - without showing the disgraceful conditions under which they live."
Lidia: "One might do a great deal of good like that - if only the rich people of Moscow and the towns could see for themselves how the poor live, things might be better."
Nicov sees her efforts as a near useless bandage to the social and spiritual ills weighing down the world around them, which needs a new religion "founded on truth and love."
Nicov: "..all the dispensaries, the schools, the libraries, these things are only aggravating the slavery of those out there. The peasants are fettered down by great chains..And are you helping to break the chains?..No, you're adding fresh links to them."
Hosting the artist's visit to their estate is Genya and Lidia's mother (Katie Firth) the consummate idle rich matron whose required smile hides her own unvoiced feelings. Together the sisters bring the painter to a new awakening of himself and his world.
In the second Malleson play adaption Michael, which debuted in 1917, it is based on the Tolstoy short story What Men Live By and tells the religious parable of a Russian peasant couple whose lives are forever changed by their charity to a mysterious stranger with odd ways and a mysterious smile. It reflects Tolstoy's dedication to living out a Christian pacifism based on personal conscience. In the story, Simon (J. Paul Nicholas), a bootmaker, takes pity on a bedraggled homeless presumed beggar (Malik Reed) and brings him home. At first his wife Matryona (Katie Firth) is livid because of the additional burden it places on their poor household but then relents when she's taken by the stranger's great needs and later by his penetrating smile.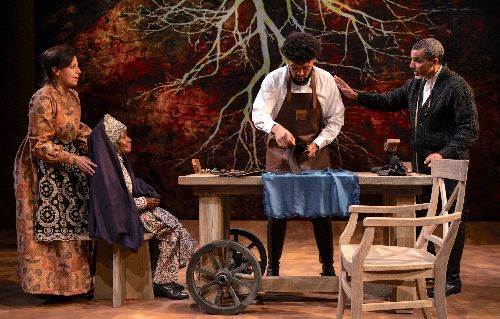 Katie Firth, Vinie Burrows, Malik Reed and J Paul Nicholas
The stranger's name is Michael and he becomes a helpful assistant to Nicholas building the family's business and reputation. When a rich arrogant nobleman arrives with the leather for a prestigious order of boots which if not executed to his specifications could have dire consequences for the craftsmen, Michael ignores his directive after he departs, apparently destroying the leather by cutting it for another purpose. Shortly thereafter, the family learns the count has died in an accident and Michel has in fact cut the leather for its intended use. Shortly thereafter another client arrives, a mother (Katie Firth) with two adopted daughters, one of whom is disabled, whom she raised with tender love after death took their parents.
Alexander Sokovikov, Katie Firth and J Paul Nicholas
Michel's prescience is ultimately explained in Sunday sermon fashion when all learn that Michael is in fact an errant angel sent to earth to learn What dwells in man? What is not given to man? What do men live by? As he learns the answers to these questions, he is lit up by a smile as he knows that he will once more be able to return home to heaven.
Michael: "Light shines from me because I have been punished and now I am forgiven...I was sent to earth to learn three truths and I have learned them. One I learned when your wife pitied me..The second I learned when the rich man ordered the boots..and now I have learned the third truth"...
When your wife "brought me food.. she had become alive..I saw God. And I remembered my first lesson 'Learn What Dwells in Man,' And I understood that in man dwells Love - and I smiled the first time. "
Then a year later, "A man came to order boots..And I saw behind his shoulder..the Angel of Death..And I remembered my second lesson, 'Learn What's not given to man.' It is not given to man to know his own needs. And I smiled the second time.
A year passed. And there came the little girls with the woman: and I heard how they had been kept alive, and I knew that I had learned the third truth - and I smiled again...I have learnt that all men live, not by care for themselves but by Love." With this thought the angel Michael
sums up the essence of the parable as "It is love alone by which they live."
Except for Alexander Sokovikov, who provides a truly compelling performance in his roles as the artist in the Chekhov story and the nobleman in the Tolstoy story, most of the other actors are adequate to the responsibilities of their roles though they appear somewhat miscast. The nonagenerian Vinie Burrows is charming as the family servant Anuiska in Michael, adding one of the only touches of humor in the overall somber production but her performance seems out of sync with the tone of the play.
Jonathan Bank, artistic director of the Mint, and Jane Shaw, sound designer, effectively direct The Artist and Michael, respectively, while Roger Hanna, Oana Botez and Matthew Richards handle the sets, costume and lighting. A nice inventive touch is the backdrop which features a lush tree in autumn blush, perhaps representing something of Nicov's creation, for The Artist which scrolls up to a complex entanglement of roots for Michael.
To put it kindly both short stories by Chekhov and Tolstoy and their resulting adaptations by Malleson, an accomplished playwright demonstrated by works such as Conflict and Unfaithfully Yours spotlighted earlier by the Mint Theater, are minor, though pleasant, achievements. This leaves a respectful plea to the Mint creative management team which for decades has established such a high artistic bar for uncovering and rejuvenating forgotten theatrical gems that fans will book productions on the mere learning of the Mint's interest. Please take a step back and review your creative plans for future productions. The word mediocre should never need to be uttered when citing the name of the Mint.
Chekhov/Tolstoy: Love Stories
Mint Theater Company at Theatre Row
410 W. 42nd Street
Running time: 90 minutes
212-239-6200
www:telecharge.com
Closing: March 14,2020