Tony Awards Voting Starts Now...
Tony Awards Voting Starts Now. And It's Going to Be Weird.
No shows are playing, and no one knows when they will come back. Here are answers to six questions about a process even more idiosyncratic than usual.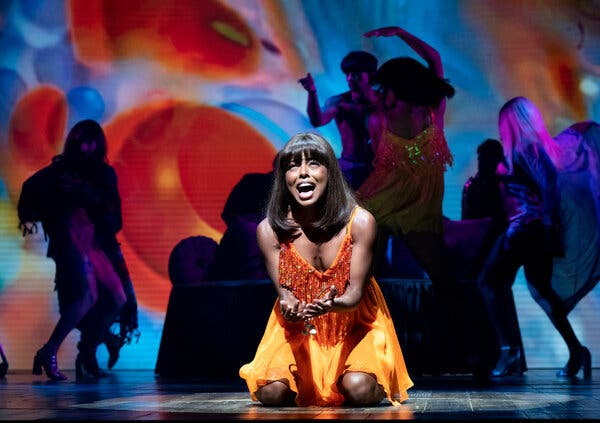 Adrienne Warren as the title character in "Tina — The Tina Turner Musical," one of three shows eligible for the best musical Tony Award.Credit...
Sara Krulwich/The New York Times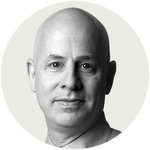 March 1, 2021
The last Broadway season ended, unexpectedly, nearly a year ago. The next one will begin who-knows-when.
But deep in this winter of our theaterlessness, a dormant tradition is starting to stir: the Tony Awards.
Hundreds of voters, this week and next, are casting ballots for the best shows, and the best performances, of a theater season abruptly cut short by the coronavirus pandemic.
The jukebox shows "Jagged Little Pill," "Moulin Rouge! The Musical" and "Tina — The Tina Turner Musical' are competing for best musical, and hope to resume performances whenever Broadway reopens. All five of the best play contenders have closed. They are "Grand Horizons," by Bess Wohl; "The Inheritance," by Matthew López; "Sea Wall/A Life," by Simon Stephens and Nick Payne; "Slave Play," by Jeremy O. Harris; and "The Sound Inside," by Adam Rapp.
In this strangest-of-all Tony competitions, the voting is disconnected from both the period being assessed, which ran from April 26, 2019, to Feb. 19, 2020, and the ceremony for handing out awards, which has not yet been scheduled.
In other words, we won't know the results until — well, for a long time.
But here's what we do know:
Who's going to vote?
Not a lot of people.
There are 778 Tony voters, but they can only cast ballots in categories in which they've seen all the nominees. Because the pandemic prevented any spring theatergoing, there are fewer qualified voters than usual.
There are 25 prize categories; the Tonys won't say how many people will actually be able to vote in each category, but producers believe slightly fewer than 400 people will qualify to cast ballots for best musical, and fewer than that for best play.
What's missing?
Parties.
The usual Tonys season is all-encompassing. Shows that opened in the fall (and that would have included all three of last season's nominated musicals) invite voters back to see them again. Monday nights are jammed with nonprofit galas at which nominees mingle with voters, and those who can sing, do. There are press junkets and mixers; display ads in The New York Times and caricatures at Sardi's; plus, of course, a raft of spring openings to catch up with.
So much hugging. So much schmoozing. So many four-hour dinners. Everyone complains. And now they long for it.
 "I can't believe I miss buffets," said Eva Price, a lead producer of "Jagged Little Pill." "So much that we took for granted, and sometimes grimaced at, we would give our left arms for right now."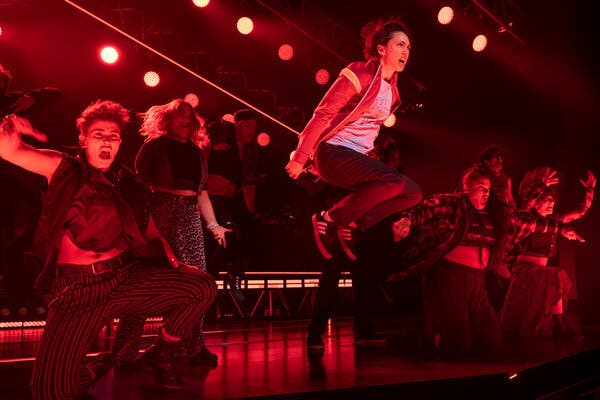 Lauren Patten, center, in "Jagged Little Pill," a show that re-aired a cast reunion concert as a way to remind voters and fans that it plans to return to Broadway.Credit...
Sara Krulwich/The New York Times
Is it appropriate to campaign?
Yes, but very gingerly.
We're still in the middle of a devastating pandemic and a huge number of people who work in theater are currently unemployed. Also: money is tight because there are no ticket sales.
"The 2020 shows can't run a campaign in the usual way, and even if we could it would feel icky to try," said Carmen Pavlovic, the lead producer of "Moulin Rouge!"
"This is not a moment for cocktail parties and gossip," she added. "It's just a moment for lifting up artists from darkness, and hoping that lifts everybody else along the way."
So swag is minimal. "Moulin Rouge!" and "Jagged Little Pill" sent voters coffee table books about their shows, but that's about it. The main form of campaigning this year is in the form of "For Your Consideration" emails.
The nominated show that is furthest in the rearview mirror — a revival of "Frankie and Johnny in the Clair de Lune," which closed in July 2019 — sent voters a video montage of interviews including its playwright, Terrence McNally, who died eight months later from complications of the coronavirus.
Nominees are sitting for profiles with theater trade publications. And last week, "Tina," "Jagged Little Pill," "The Inheritance," "Slave Play" and "Betrayal" bought daily sponsorships of Broadway Briefing, an emailed industry newsletter whose subscribers include many Tony voters.
And there are other, newfangled ways to refresh voters' memories. "Betrayal" on Sunday held a cast reunion on Instagram Live; "The Sound Inside" sent voters videotaped selections from the production; "Jagged Little Pill" released a video reflecting on the year and is re-airing a concert version of its show. "Moulin Rouge!" and "The Inheritance" built voter web pages with performance clips, interviews, scripts and more.
The message needs to be focused, producers say. "We have to be very mindful and respectful of what people's experiences are right now," said Tali Pelman, the lead producer of "Tina." At the same time, she said, "Honoring our talent and their contribution is important. More than ever, we have to shout out about their exceptional value in society."
What happens when the votes are tallied?
An accounting firm sits on the results.
The voting period runs through March 15, with votes cast electronically via a password-protected website, and tabulated by Deloitte & Touche LLP. Even in pre-pandemic years, results are not shared with the leaders of the organizations that present the awards — the Broadway League and the American Theater Wing — or anyone else before they are announced.
This year they will just be kept secret for longer than usual.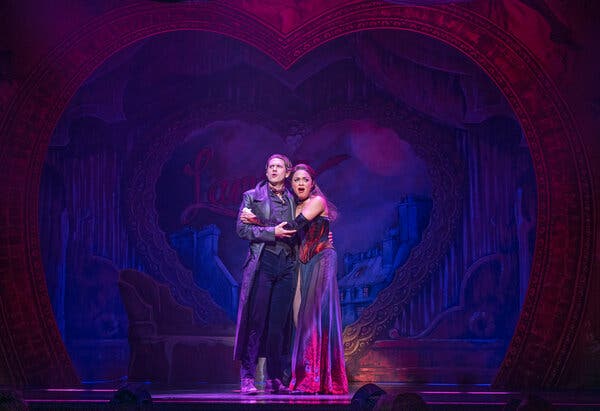 Aaron Tveit (with Karen Olivo, in "Moulin Rouge!") is the only actor eligible for best actor in a musical.Credit...Sara Krulwich/The New York Times
Can you lose if you're the only nominee?
Theoretically, yes.
Aaron Tveit of "Moulin Rouge!" is the only person nominated as best actor in a musical. This is an unusual circumstance, for which the Tonys have imposed an unusual rule: to win, Tveit must get a positive vote from 60 percent of those who cast ballots. But, to be clear, he's likely to pick up his first statuette this year.
There are a couple of other nomination quirks, too. There will be no prize for best musical revival, because the only one that managed to open, "West Side Story," did so after the retroactively imposed eligibility date. And the contenders for best score were all from plays.
So when will we know the winners?
Stay tuned.
It seems clear that the ceremony will only take place after live performance is allowed to resume in New York and tickets to Broadway shows have gone on sale.
That's because the industry's priority will be to use the ceremony to remind potential audiences that Broadway is back. The goal, said Heather A. Hitchens, the Wing's president and chief executive, "is to be most helpful to the industry."
Several producers and publicists say they are now thinking the most likely time frame is after Labor Day, a full year and a half after Broadway shut down.
The organizers have shared a few other details. This year's ceremony, like those before the pandemic, will be overseen by Glenn Weiss and Ricky Kirshner. There will be some noncompetitive awards (those are honors like lifetime achievement). But there has been no announcement about whether the ceremony will be in-person or virtual, televised or streamed, live or taped; only that it will take place "in coordination with the reopening of Broadway."
"We hope to have news very soon," said the League's president, Charlotte St. Martin.