<![endif]>
(l-r) Kristine Nielsen, Rachel Nicks, Robert Sella, Nicholas Podany, and Jenn Harris. Photo by T. Charles Erickson
Turning Off The Morning News
By David Schultz
Hard to believe it's been six years since Christopher Durang hit paydirt with his Tony Award Winning play Vanya and Sonia and Masha and Spike. McCarter Theater's World Premiere of his most popular work to date hit a nerve and was heartily embraced by critics and audiences alike. Mr. Durang's previous play, Miss Witherspoon also commissioned by The McCarter Theater also transferred to a New York Theater, and was shortlisted for a Pulitzer Prize. Artistic Director Emily Mann knows Mr. Durang quite well. Meeting decades ago in a playwriting seminar at Harvard, they clicked personally and professionally. This symbiotic relationship has worked wonders over the years, as has Mr. Durang's consistent ongoing relationship with actress Kristine Nielsen, who, working as his Muse, has appeared in countless productions of his work. Miss Nielsen has an uncanny knack of being able to channel his insane melodic verbal rhythms into a unique art form.
With this World Premiere closing out the season, this dark demented new work harkens back to his absurdist-skewed vision of the world at large. With the real world seemingly on the edge of collapse it seems a perfect fit for this playwright to gather together his obsessions and recombine them into an absorbing evening. Depression, the environmental destruction of our planet on an increase, ruminations on religion and death and the afterlife, and, foremost in this play, the ways in which gun violence has infiltrated the very fiber of life in current day America are fodder for this playwright. Shootings in movie theaters, restaurants, and High Schools have become consistent reminders of the delicate imbalance of a sick society.
<![if !vml]>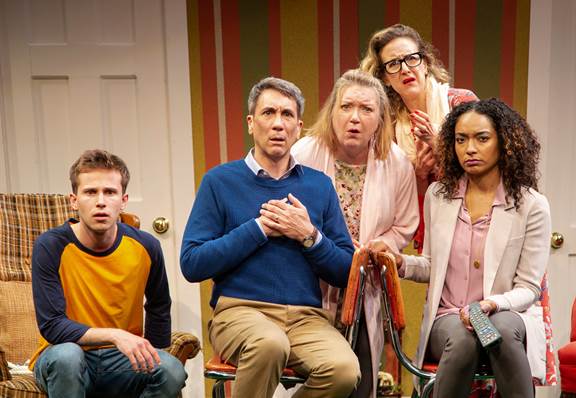 <![endif]> (l-r) Nicholas Podany, Robert Sella, Kristine Nielsen, Jenn Harris, and Rachel Nicks. Photo by T. Charles Erickson
Beowulf Boritt sets the performance space with a brilliant setting. The stage is brightly lit showing various rows of homes in the background, all tilted and leaning askew. One lone house stands in front of all the others, empty and beckoning. Think of a 1950's vision of Levittown filtered through the impressionistic cinematic styling of the film The Cabinet of Dr. Caligari. Mr. Boritt encases the stage with a circular shape that resembles a television outline framing the entire play. It is an ingenious visual device that sets the mood before anyone enters the stage.
A jarring start to the evening is about to commence…. A man pops out onstage. He announces to the audience that his name is Jimmy (John Pankow), and he confides in a casual manner his potential plan to commit mass murder. Is he joking or being snarky? With a wink in his eye, "Maybe I'll go to the theater and kill people there, then kill myself," then this… "You're lucky I'm in the play and not in the audience." And we are off and running. In no time flat we are introduced to his nervous fluttery wife Polly (Kristine Nielsen) and morose son Timmy (Nicholas Podany) in their modest living room. Jimmy leaves the room and confronts Polly a few minutes later wearing a pig mask and carrying a slew of semi-automatic weapons. He informs her he might go to the local mall to shoot up a few people…. or maybe not. Or maybe start writing that book he has been meaning to write. Polly, ever the optimist and filled with overwhelming anxiety looks the other way thinking he is just kidding and being silly. She has her own troubles and can't seem to locate a favorite plant that needs watering…though it is obvious to the audience that she is holding the plant as she is looking for it. There is an undercurrent of deep sadness and despair in the play. But the manic zaniness that heavily coats the play consistently undercuts the darkness. That in its inimitable way is its brilliance. How many people just zip and zag through life without really slowing down and seeing what is right in front of them? That missing plant is a nifty metaphor.
The center stage slowly revolves to reveal a second home, next door to Jimmy and Polly. New neighbors Clifford (Robert Sella) and Salena (Rachel Nicks) are living together, unmarried but happily ensconced in their new surroundings. They have misgivings on what they see out their windows as they observe their neighbors…. they have spied and seen that man next door, wearing a pig mask as he drives off in his car. Clifford has given up on watching the news as it causes undue stress on his soul. Rather ironic that he works as an assistant editor at the local newspaper, so any and all news is only inches away from his eyes, if he so chooses to look. Salena has recently met another neighbor named Rosalind (Jenn Harris) a melanoma-prone woman who blots out the sun with a startling device…. she wears a pillowcase with the eyeholes cut out to circumvent any deadly rays of sunshine.
Back at home with Jimmy and Polly, the emotional levels increase with outbursts as Jimmy in a fit of rage explodes and shoots Polly's beloved plant and destroys it. Polly discovers the plant and grieves with thoughts of what her afterlife would look like as she enters the realm of fantasy to relieve her stressful home life. To make her life better and hopefully make friends with the neighbors Polly is invited with her moody hubby and son to visit Clifford and Salena for a pleasant visit. Needless to say it devolves into an awkward evening, as Rosalind is included as well. Wait until you see Rosalind's avant-garde dance as she swirls around the group, to relive her stress. The proceedings continue to get stranger as the evening wears on. The imminent threat of physical violence is palatable, as the gaggle of eccentrics on view gets even more insane. The broad cartoonish brush strokes that everyone displays onstage create a weird disturbing sense of unease. The horrific events that are possibly about to happen in this ninety-minute play are used as fodder for laughter. The play does, of course, end in tragedy, but in an odd way it leads to a sliver of hope for one of the protagonists.
This bold daring play is not, needless to say, everyone's cup of hemlock. But the play, carefully cloaked in deep anger and despair at the world and what has happened to decency and a sense of one's own moral compass gone completely haywire, hits many targets…pun intended. For the diehard Durang fan, it is a not to miss event, for the novice, be warned. The comingling of laughter and stomach churning potential tragedy are on full display in this galvanizing work.
McCarter Theater
Princeton NJ
Berlind Theatre
Running through June 3rd
Mccarter.org 609 258 5050