04/13/2014
A Respectable Widow Takes to Vulgarity & Clean
By: Eugene Paul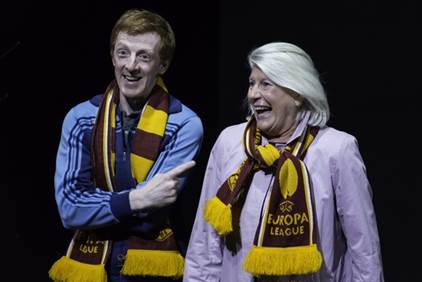 Gavin Jon Wright and Joanna Tope in a scene
from A Respectable Widow Takes to Vulgarity
(Photo credit: Jeremy Abrahams)

Please allow me to give you the full title of the first of the two plays of the evening: A Respectable Widow Takes to Vulgarity. That is a better preparation somewhat for the loopy language attitude which causes Brits and Scots – and all the other semi-indigenous inhabitants of the British Isles – to grow giddy with laughter at the drop of a dirty word. The basic situation of the play? A high-toned lady discovers the joys of talking dirty, a delight she had assumed was the exclusive privilege of the lower classes as compensation for their benighted estate. Playwright Douglas Maxwell, bless his heart, wrangles this basically one-joke plot into realms of human behavior that takes us beyond the joke into touching moments of genuine communication and warmth which is, after all, what the fuck we're tackling, right?

Poor Jim Dick, yes, that's the dim git's name (marvelous Gavin Jon Wright) is gnarly with agitation over telling his boss's brand-new, smiling sadly, innocent widow Annabelle Love (loverly Joanna Tope) how fuckin' sorry he is that his boss has died. He knows instantly that he's not talking proper but cannot arrest the habit of a life time and he's scared to death he's going to lose his job for talking shit – and there, he's done it again and he's only been seven months in the job. Annabelle, sixtyish, a trifle loose from her moorings, decides that he is the one who sounds like he really cared, and is determined to learn his language because all she and her friends do is chitter chatter, whereas when Jim says something it's weighty with overtones and after all, what is language for?

Annabelle blackmails Jim into language lessons: if he does not meet her from time to time and teach her all those richly nasty, vulgar words she will have him fired. If he teaches her the unrefinements of beyond the bawdy, he'll keep his job. Jim's moral fiber is stretched to the quick. He capitulates.

What saves the play ultimately is Annabelle's underlying sadness. Despite the brightness of learning – and using – all those forbidden to her words that curl your ears, she really misses her husband. And these awful meetings with dear, agonized Jim carry her through her mourning. Director Orla O'Loughlin, artistic director of the Traverse Theatre of Edinburgh, Scotland, has handled her cast with sensitivity and charm.


Emma Dennis-Edwards, Chloe Massey and
Jade Anouka in a scene from Clean
(Photo credit: Jeremy Abrahams)

Clean, by playwright Sabrina Mahfouz, the other play on the double bill, is really not clean at all but director O'Loughlin isn't fazed a bit and whips her three, highly ornamental criminals through their paces with a stylish kind of nervy aplomb that sets off their rashers of charms while greatly adding to the fun – and by the way – wittily knocks off lots of bucks from production costs. No mean feat. Zainab (splendid Emma Dennis-Edwards) young, brash, cunningly careful, successfully supports her mother and herself as best she can which is pretty darn good for a 23-year-old with street smarts. And street language, frequently hardly intelligible but that's the way they talks. She only works alone, not with others.

Certainly not with Chloe (ultra-cool Jade Anouka). They are too different in style, in attitude, in work. Chloe talks so upper class, so U, it's riveting. And decidedly unreal. She has been smuggling jewels, emeralds, chiefly, successfully, for years although she's only a few years older than baby Zainab. She only works alone, never with others. (Where have we heard that before?)

Katya, (wonderful Chloe Massey) is a sultry, icily composed Russian spy for hire, highly experienced, highly successful. She only works alone. Hmmm.
They are summoned by a very successful female underworld boss to do a job. Together. (By now, we know we are in deepest graphic novel comic book territory and ya goes with the flow.) We don't see the boss but we do see them reacting, then conjunction, then mad adventure, capture, release, the works. What makes it fun is the way director O'Loughlin has, with the most minimal of props, raced them through their paces, sometimes autobiographical, sometimes flat out storytelling, always highly keyed into us, the audience. Who says women can't have mad adventures? Pure, glitzy comickaze. On stage and in your head. Thoroughly enjoyable.

A Respectable Widow Takes to Vulgarity & Clean (April 27, 2014)

59E59 Theaters, 59 East 59th Street, near Park Avenue, in Manhattan
For tickets, call 212-279-6200 or http://www.59e50.org
Running time: one hour and 45 minutes including one intermission