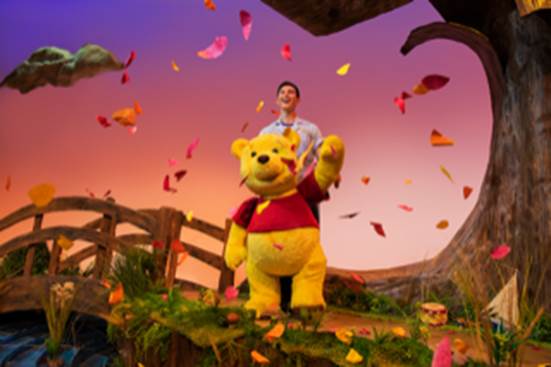 Puppeteer Jake Bazel in Disney's Winnie the Pooh
Photo: Evan Zimmerman for MurphyMade
Disney's Winnie the Pooh
                                       by Deirdre Donovan.
The theater season just got a whole lot sweeter with the arrival of Disney's Winnie the Pooh at Theatre 3 at Theatre Row. Written by Jonathan Rockefeller (with additional dialogue by Jake Bazel), this new musical stage adaptation features the Sherman Brothers' Grammy Award-winning music with additional songs by-–you guessed it—A.A. Milne himself.
Featuring larger-than-life puppetry and a team of able puppeteers, this theatrical event invites us to revisit the classic characters that we all love: Christopher Robin (Max Lamberg), the beloved Winnie the Pooh (Jake Bazel), and all his loyal friends who wander through Hundred Acre Wood.
This musical is kid-friendly. In fact, if you have been looking for a show that can serve as your child's first introduction to live theater, look no further than this Disney confection. Indeed, I invited my 4 year-old neighbor Leo Although I had had some reservations that this 55-minute entertainment might not hold his attention throughout, I am happy to report that his eyes were glued to the stage from the get-go—and he never became bored with the antics on stage.
But then who wouldn't be pulled in by this charming story that revolves around Pooh's search for honey. True, his best friend Christopher Robin would typically supply him with this sweet treat. But, with the arrival of fall, the young lad has gone off to school. Thus Pooh must search for his own honey to satisfy his sweet tooth. Fortunately, the pudgy ursid has a lot of anthropomorphic talking friends—Kanga (Kristina Dizon), Piglet (Kirsty Moon), Rabbit (Emmanuel Elpenord), Tigger (Chris Palmieri), Eeyore (Elpenord again), and Owl (Dizon again)—who generously help him search for his grail.
David Goldstein's delightful set, lit by Jamie Roderick, includes cotton-like clouds suspended from the flies, a vegetable garden that has "kerits" (think carrots) and "cabege" (think cabbage) poking through the soil, a large tree with a hollowed-out trunk, and a gently rolling landscape for all of A.A. Milne's characters to go bumbling through.
The puppetry is terrific! Each puppet is brought to life by a puppeteer who speaks (or sings) the fluffy character's verses and manipulates its movements with a hand-held gadget, or for the larger puppets, with their own body. These puppets can walk, dance, somersault, climb, and do all kinds of gymnastics before the finale arrives in this one-hour show (sans intermission).
Much of the fun of watching this Winne the Pooh is seeing youngsters' faces in the audience light up with smiles as they react to the escapades in Hundred Acre Wood. My favorite scene? When winter arrives and the snowman—or rather snowwoman—named Mrs. Winter won't talk to the affable creatures in Hundred Acre Wood. The solution? They all decide to take her indoors to warm her up by the fire.
Okay, the youngsters might not "get" all of the wit and humor innate to the story. But the adults sitting beside them surely will—and perhaps thank the English author A.A. Milne and English illustrator E.H. Shephard for creating the original Winnie the Pooh stories in 1926.
Thirty-five years later, in 1961, Walt Disney Productions would gain license from the estate of A.A. Milne for certain film and other rights for the Winnie the Pooh stories. Ever the innovator, Disney would retool the classic Pooh stories into features that have since developed into one of its most robust franchises.
The current Disney adaptation at Theatre Row proves that Milne's classic can resonate today, even with the tiniest theatergoer. But then its central theme is friendship and how the building of lasting relationships is one of the most vital accomplishments in anybody's life. And who would argue with that?
A warning to theatergoers: Disney's Winnie the Pooh will close on January 30th. Catch it now—or catch it never.
At Theatre 3 at Theatre Row, 410 West 42nd Street, Midtown.
For more information and tickets, visit www.WinnieThePoohShow.com.
Running time: 55 minutes with no intermission.