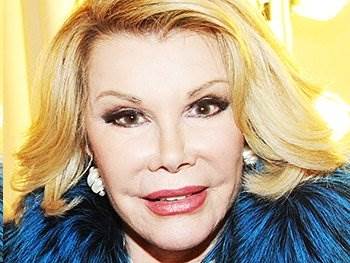 Photo by: Bruce Glikas

"If you don't go to Broadway, you're a fool. On Broadway, off Broadway, above Broadway, below Broadway, go! Don't tell me there isn't something wonderful playing. If I'm home in New York at night, I'm either at a Broadway or an Off Broadway show. We're in the theater capital of the world, and if you don't get it, you're an idiot."
- Joan Rivers
"Joan Rivers loved Broadway and we loved her. Due to the outpouring of love and respect for Joan Rivers from our community and from her friends and fans worldwide, the marquees of Broadway theatres in New York will be dimmed in her memory, at exactly 6:45pm for one minute."
Charlotte St. Martin, Executive Director, The Broadway League
---
BROADWAY TO DIMMED ITS LIGHTS
WEDNESDAY, OCTOBER 8TH
IN MEMORY OF TONY-AWARD WINNING
PREMIER STAGE ACTRESS
MARIAN SELDES
 (New York, NY) October 7, 2014 -- The Broadway community mourns the loss of Marian Seldes, a Tony Award®-winning actress, five-time nominee, and the recipient of a Special Tony Award for Lifetime Achievement in the Theatre. She died on Monday at the age of 86. The marquees of Broadway theatres in New York will be dimmed in her memory tomorrow evening, Wednesday, October 8th, at exactly 7:45pm for one minute.
"Marian Seldes's name is synonymous with theatre. Her persona on the Broadway stage was as real as her genuine grace and kindness off stage," said Charlotte St. Martin, Executive Director of The Broadway League. "Her lovely elegance and iconic talent will be deeply missed by her family, friends and fans."
With a career that spanned 60 years, Marian Seldes made her Broadway debut in 1947 in the Robinson Jeffers adaptation of Medea directed by John Gielgud and starring Judith Anderson in the title role. In 1967, she won a Tony Award® as Best Featured Actress in a Play for her role in A Delicate Balance by Edward Albee. Ms. Seldes has a long association with the playwright, appearing in The Play About the Baby, Tiny Alice, Counting the Ways (as part of Beckett/Albee plays) and Three Tall Women, a tour de force for the actress. She entered the Guinness Book of World Records for her appearance in Ira Levin's Deathtrap when she didn't miss a single performance of the play's four-year run.
Other stage credits include Equus, Painting Churches, The Milk Train Doesn't Stop Here Anymore, and The Chalk Garden. She received Tony Award nominations for her performances in Father's Day, Deathtrap, Ring Round the Moon, and Dinner at Eight. Her last appearance on Broadway was in 2007 in Terrence McNally's Deuce.
In 2010, Ms. Seldes received a Special Tony Award for Lifetime Achievement honoring her contribution to the theatre and her extraordinary talent.
Ms. Seldes also had an extensive career in movies, television and radio. She authored two books: "The Bright Lights," a memoir; and a novel, "Time Together."
She taught for many years at The Juilliard School and later as an adjunct professor at Fordham University.
Editor's note:
The published biographies, impressive as they seem, in no way can capture the warmth that Ms. Seldes' presence radiated into whatever space she inhabited. But most especially the way she would, when approached, more often than not wrap her arms around you followed by a kiss in the cheek, gazing into your eyes in rapt attention to whatever you were saying, seemingly grateful for the recognition.
I experienced this each time I saw her at theater functions and always left a bit exalted
not daring to think that she couldn't possibly have remembered me,
dreaming that she did.
I miss her already.


Jeanne Lieberman, Publisher
---
BROADWAY  DIMMED ITS LIGHTS
FRIDAY, OCTOBER 10th
IN MEMORY OF DIRECTOR, CHOREOGRAPHER, PERFORMER, DESIGNER
GEOFFREY HOLDER
(New York, NY) October 8, 2014 -- The Broadway community mourns the loss of Geoffrey Holder, the 1975 Tony Award®-winning director and costume designer of The Wiz who died on Sunday at the age of 84. The marquees of Broadway theatres in New York will be dimmed in his memory Friday, October 10th, at exactly 7:45pm for one minute.
Geoffrey Holder was a multi-talented stage and film artist who directed and designed the original Broadway production of The Wiz for which he won two 1975 Tony Awards® for Best Direction of a Musical and Best Costume Design. In 1978, Mr. Holder directed and choreographed the Broadway musical Timbuktu!, receiving a 1978 Tony Award nomination for Best Costume Design.
"No one who saw The Wiz will ever forget the memorable experience, in large part thanks to the direction and design brought to the Broadway stage by Geoffrey Holder," said Charlotte St. Martin, Executive Director of The Broadway League. "An incredibly talented artist seen in many mediums, his visual creativity and influence was unforgettable."
Mr. Holder made his Broadway stage debut in House of Flowers, the 1954 musical by Harold Arlen and Truman Capote. 1957, he played Lucky in an all-black production of Waiting for Godot. In 1964 he supported Josephine Baker in a Broadway revue built around the legendary performer.
In the 1950's, Holder was a principal dancer with the Metropolitan Opera Ballet in New York. As a choreographer, Holder has created dance pieces for many companies, including the Alvin Ailey American Dance Theater and theDance Theatre of Harlem .Movie career highlights include:All Night Long, Doctor Dolittle, Everything You Always Wanted to Know About Sex, Boomerang, Live and Let Die. In the 1982 film version of the musical Annie, Holder played the role of Punjab. He was also the voice of Ray in Bear in the Big Blue House and provided narration for Tim Burton's version of Roald Dahl's Charlie and the Chocolate Factory.
Holder was a spokesman for the 1970's 7Up soft drink "uncola" advertising campaign.He reprised his role as the 7Up spokesman in the 2011 season finale of The Celebrity Apprentice.
Holder was a prolific painter, art collector, book author and music composer. As a painter, he won a Guggenheim Fellowship in fine arts in 1956. In 1955, Holder married dancer Carmen de Lavallade, whom he met when both were in the cast of the musical House of Flowers. They had one son, Leo Anthony Lamont. Holder's brother was artist Boscoe Holder.
He is survived by his wife, Carmen de Lavallade, and their son, Léo.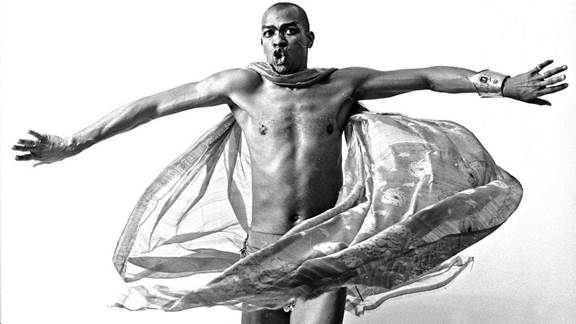 Jack Mitchell / Getty Images
Editor's notes:
It is impossible to capture the larger-than-life charisma
 of this scintillating Renaissance man of all talents.
The sight/sound of him produced a ripple of excitement
even if  you didn't know who he was.
A rare phenomenon his voice was as unmistakable
 as his visual touch on all the arts, most especially dance.
Truly unforgettable
Jeanne Lieberman, Publisher
---
Broadway's lights are going up at the astonishing rate of a new show a night
in this fertile new star studded season
it is even more poignant when these same lights are dimmed
as a series of extraordinary presences leave us
These three:
Joan Rivers
Marian Seldes
Geoffrey Holder
each in their unique and different ways
define Theatricality
and if we look closely we will be able to see/feel their influence
on the variety of new productions that Theaterscene is happy to define for you
in our forthcoming issues
I consider each new article a tribute to them
in one way or another
Jeanne Lieberman
See you at the theater………………
Jeannie Lieberman
Publisher, Theaterscene.com
Publisher, Fire Island Sun. com
voting member: Drama Desk
Outer Critics Circle
Drama League
ATCA