The SCAA would like to welcome everyone back to Saltaire! After the winter in the Northeast, it is time to enjoy the beach.


*Save the Date for more 2015 SCAA Activities,
we look forward to seeing you at them!
July 25th - Saltaire House and Garden Tour
Aug. 1st - Music and Arts Festival
Aug. 15th - Jogathon Registration
Aug. 16th - Jogathon
Aug. 29th - Sandcastle Contest
Oct. 17th - Halloween Party
---
COME YE TO THE FAIR!
It's the 43rd annual Pine Walk Fair, scheduled for Saturday, July 4th (rain date Sunday, July 5th). The fair snakes all over our "downtown area" – from the east side of the firehouse, then along the Bay and all the way down the dock.
This event is our large annual fundraiser and it enables us to pay for both normal and emergency purposes. The actual fair, plus its partner - Fair Harbor's Amazing Online Auction, raises most of the money for assorted community needs – e.g. paying the insurance premium for the insurance for the Bay lifeguards). The Pine Walk Fair also gives an annual donation to The Fresh Air Fund.
You'll find a lot of unique merchandise at the fair. Yes, of course
your favorite vendors will be back, but we've got several interesting surprises for you. There are new and exciting participants offering
fantastic and varied goods for sale that include fused glass, mosaics, stained glass, paintings (oil, water colors, acrylics, digital,) a self-contained system of growing vegetables and plants, and board shorts made out of a material from recycled water bottles - (please believe me; there is no way that I could make this up).
And of course there will be several types of jewelry (beaded, gold, silver, pearls, macramé, antique), children's quilts and clothing, vintage eyeglasses, t-shirts, pareos, hats, small stuffed animals that wear a wardrobe of inventive garments, soaps, notecards, and maps
of everywhere you've ever wanted to be.
Many of our vendors have nationwide reputations; we are so pleased to have them at our fair. And - please note the beautiful 2015 Pine Walk Fair Posters hanging all over Fair Harbor; the artwork was contributed by vendors Jane Sklar and Max Cartagena who just won first prize in the mixed media category at the Washington Square Spring Outdoor Art Show!
Still more to see: check out the tables in front of the firehouse. There are new books, hardcover and paperback, offered at deeply discounted prices. And the reason we call them the "miscellaneous tables? You'll find merchandise for sale ranging from teakettles to beach tops to stationery to insulated water bottles to children's toys, etc. In addition, many of our generous vendors have given us a sample of their wares to sell at this table for the benefit of the
Fair Harbor Community Association.
Patrick and Melissa Adams of The Dock will once again be offering all kinds of interesting edibles for sale at the fair. So – SHOP, EAT, SHOP and then continue shopping without going home for lunch.
As usual, volunteers are needed to man the miscellaneous merchandise
table in front of the firehouse at the Pine Walk Fair. There is a signup sheet with hourly time slots posted in the Pioneer Market; choose the time that's best for you. It's a lot of fun, and a happy place to work.
Please – let me appeal to everyone in Fair Harbor. This event is a ONE DAY, ONE SHOT deal. NO NEXT DAY, NO NEXT WEEK!
Come down early – and throughout the day. Bring your holiday weekend company; tell your friends in the neighboring communities to join us. We are all looking forward to another great Pine Walk Fair!
---

| | |
| --- | --- |
| | Saturday, July 25 at 10:00pm |
$150 EARLY BIRD THROUGH 5/25! $170 starting 5/26; $200 day of event and at the door. Dance under the stars, on the beach, Fire Island Pines, 10:00 PM to Dawn Music by: Pagano (London) Steven Redan...
---
Press Release
Fire Island Lighthouse Preservation Society
July
All Saturdays Lighthouse is open late – 8 pm
Enjoy the early evening at the Lighthouse. Beat the parking fee after 6pm. Tower tours are available until 7:30 pm at regular fee. Weather permitting please call ahead
(631) 661-4876. Every Saturday in July.
Wednesdays Family Seaside Adventures
This six week program is designed for parents and children to work together learning about the natural and cultural maritime history of Fire Island. The program will meet at the Lighthouse at 10 am on Wednesday mornings beginning July 8 through August 12. Activities will range from seining for marine life in the Great South Bay, exploring the old boathouse, and various maritime crafts. There will be a nominal fee for each program. Please call ahead (631-661-4876) so we can plan accordingly.
July
Friday 31 Evening Tower Tour-Blue Moon
7:30pm- Experience the sunset from a new perspective. View the night sky from the top of the Lighthouse. Bring a flashlight for your walk back to the parking field. - $15 for FILPS Members/$20 for non-members, Reservations Required. Sunset 8:10 pm.
Call (631) 661-4876 to make all reservations
The Lighthouse and museum is open all year round. Spring hours are 10am – 5pm daily – tower closes at 4pm. All parking is in Field #5 of the Robert Moses State Park. Tower tours are $7 adults, $4 seniors & Children under 12 (children must be 42" tall to climb). Foot ware is required to climb. `
The Fire Island Lighthouse Preservation Society
4640 Captree Island, Captree Island, New York 11702
www.fireislandlighthouse.com (631) 661-4876
Follow us on Facebook
**Programs and times are subject to change. Please visit our web site for updated information.**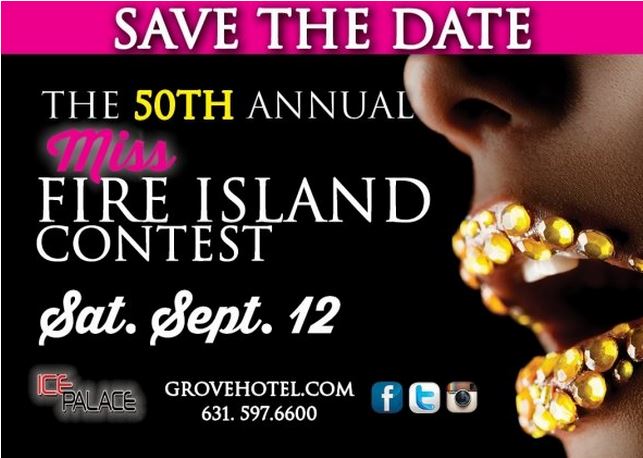 FIRE ISLAND SUN ADVERTISERS
KISMET BIKE BARN
(65 EAST LIGHTHOUSE & MAPLE )
BIKES FOR SALE, RENT
AND REPAIRS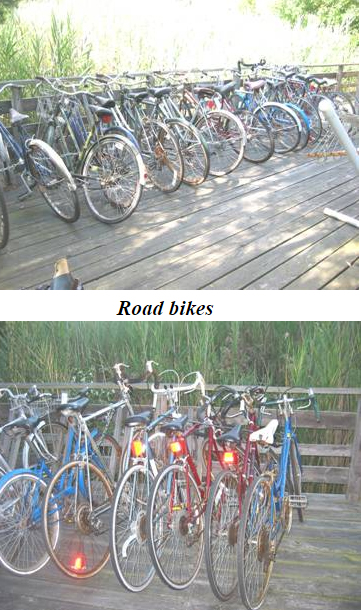 or Racing Bikes
CALL JOE OR DANIEL 631- 583- 9032



ISLAND BEACH REALTY ASSOC. INC
We are Kismet's # 1 Real Estate Broker for sales, rentals, and service.
Check out our current listings for sales and rentals at Island Beach Realty com.
Or call 631 583 9500 and ask for Sam or Rusty.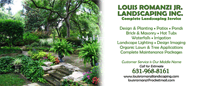 Louis Romanzi, Jr. Landscaping
429 Brooklyn Blvd
Brightwaters, NY 11718
631-968-8161