Tony Awards Postponed Due to Coronavirus Pandemic
By CYNTHIA LITTLETON and BRENT LANG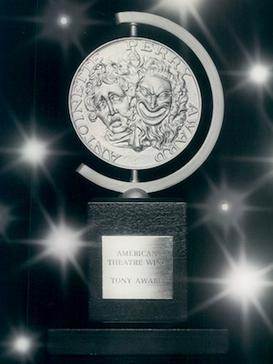 The Tony Awards are the latest industry event to be postponed because of the coronavirus pandemic.
The American Theatre Wing, which backs the show, announced on Wednesday that the 74th edition of the annual celebration of the best of theater will be pushed back indefinitely. The ceremony was originally scheduled to air live on CBS, from Radio City Music Hall in New York City, on June 7. However, Broadway has been closed since March 12 due to the coronavirus pandemic, with producers tentatively setting April 12 as the date that theaters will reopen. That may have been optimistic given that the number of COVID-19 cases continues to grow and New York City is at the epicenter of the public health crisis.
"The health and safety of the Broadway community, artists and fans is of the utmost importance to us," the American Theatre Wing said in a statement. "We will announce new dates and additional information once Broadway opens again. We are looking forward to celebrating Broadway and our industry when it is safe to do so."
THE NEW SEASON??? MAYBE!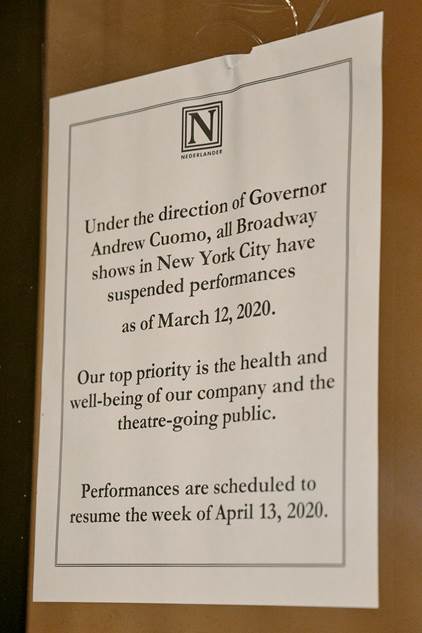 Barely under a week ago I was preparing Theaterscene's annual  Spring Season edition, excitedly announcing the 27 new Broadway shows that will make their debut between now and the Tony deadline .
(whenever that is. No word from the Broadway League yet)
Indeed the season started off quite impressively with the new, tradition shattering Westside Story, while last year's major hit To Kill a Mockingbird made theater history by performing at Madison Square Garden for 18,000 students.
Things were looking up. A Soldier's Play was great, Company was coming in with a female lead in the traditional male role, coinciding with creator Stephen Sondheim's 90th birthday.
The show must go on ...not!
And then the indescribable and unimaginable happened. Shut down! Anathema to any theater production. It was shocking, sudden and surgically precise, catching everyone unaware. There was mass confusion in the lobby of the West 43rd street building which houses many performers as they were sent home. The effects are incalculable, from producers to performers to part time ushers (theater's first victims). Press agents prematurely proclaimed a re-opening date, April 12, 13th (now mid May?)
Most of Off Broadway's re-opening date: Never!
Therein lies an even greater tragedy as  little shows struggled to get a foot in the door only to have it slammed shut.
Unable to wait it out, most will vanish without a trace.
As we wander around avoiding each other, (the ban on congregation went from under 500, to 250, now to 10 in less than a week),
 the concept of theater as we knew it, of thousands  from all over the country, the world, sitting side-by-side, strangers to each other, united in a common goal - sharing an experience - has become as alien as smoking there.
And the ban comes at a time when the very purpose of theater is most needed.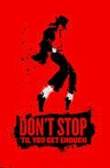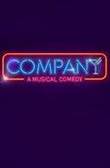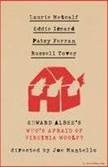 Forthwith: A cautiously optimistic forecast of the new season as we would hope it to be and condolences for the many shows that may not survive:

Six, The Minutes, Hangmen, Company, The Lehman Trilogy, Diana,

 Mrs. Doubtfire, Caroline, or Change, Who's Afraid of Virginia Woolf?, Michael Jackson,

the musical, Flying Over Sunset, Plaza Suite, American Buffalo, How I Learned to Drive, Take Me Out


See you at the theater.............I hope
Jeanne Lieberman, Publisher

this just in...........

the Annual Theaterworld Awards ceremony
has been re-scheduled from June 1 until Fall 2020
(do you think the others will fall in line?)
---
---
Former Drama Desk President
William Wolf Passes
Away
by Broadway World News Desk (3/31/2020)
Broadway World is saddened to report that William Wolf, former President of the Drama Desk, passed away from virus complications on Saturday, March 28. He is survived by his wife, Lillian Kramer Wolf.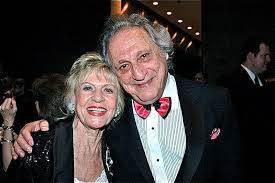 Photos by Ed Rubin


William Wolf, critic, author, educator and lecturer, served two years as Chairman of the New York Film Critics Circle and was a member of the National Society of Film Critics, the New York Film Critics Online, the Online Film Critics Society, P. E. N., the American Theatre Critics Association, the International Association of Theatre Critics, and the American Association of University Professors.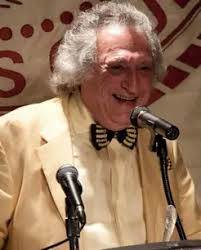 He served as President of the Drama Desk, an organization of critics and writers on the theater, and previously served for two years on its nominating committee for the Drama Desk Awards and is on the Drama Desk Executive Board.
In 1998 he founded and began publishing the Wolf Entertainment Guide on the Internet
At New York University, he was an Adjunct Professor and taught Film as Literature in the English Department and Cinema and Literature in the French Department.
Wolf was for many years film critic and film editor for Cue Magazine (1964-1980), and when Cue was merged into New York Magazine, he became a critic and contributing editor, writing the magazine's On Film column (1980-1983).
He subsequently became the syndicated film critic and columnist for the Gannett newspaper chain (1984-1988).
Wolf's articles have appeared in newspapers throughout the United States, publications abroad, and various national and international magazines and prestigious annuals.
Wolf is the author of Landmark Films: The Cinema and Our Century , which he wrote in collaboration with his wife, Lillian Kramer Wolf, and of The Marx Brothers. He has contributed chapters on "Easy Rider" and "Duck Soup" to "The A List: 100 Essential Films" a collection of reviews by members of the National Society of Film Critics, and "The Eroticism of Words" and "Kinsey" chapters in the National Society's sequel, "The X List."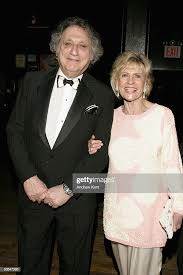 As yet, no funeral or memorial plans are being announced, and Bill's family hasn't designated a preferred recipient or recipients of memorial gifts.
Editor's note: Wherever a Drama Desk function or on press nights I always shared time with Bill and Lillian, They were inseparable and my heart goes out to Lillian. I used to call Bill "Mr. President". He was the ultimate nice guy, clever caring and coherent.
I am deeply shocked and saddened at the sudden loss.
He shall be greatly missed.
Jeanne Lieberman, Publisher
---
Playwright Terrence McNally, 81, dies of coronavirus-related complications
                                By Mike Boehm, Los Angeles Times 3/24/2020
Terrence McNally, whose long, varied and prolific career as a playwright, musical librettist and screenwriter earned him four Tony Awards and an Emmy, died Tuesday. He was 81.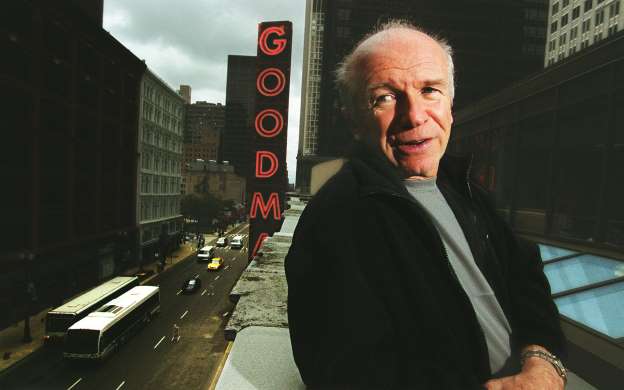 © BILL HOGAN/Chicago Tribune/TNS

March 24, 2020 - In 2001 McNally is quoted as saying: 'I don't waste a lot of time... waiting for inspiration. I sit down, and a week or so later I have a draft.' McNally, 81, has died of coronavirus-related complications.
McNally, once referred to as "the quintessential man of the theater" by actress Zoe Caldwell, died from complications related to the coronavirus, according to his publicist Matt Polk. He was diagnosed with lung cancer in 2001 and twice underwent surgery.
While most playwrights since World War II have arrived like comets, creating their signature scripts early in their careers, the arc of McNally's writing life testified to the riches — especially insight, empathy, and a hesitance to judge flawed people too harshly — that came with maturity. He earned his first Broadway writing credit at age 23, and continued steadily from there into his 30s, establishing a reputation as an edgy and talented satiric playwright and farceur who consistently challenged and mocked authority during the Vietnam War era. But McNally's streak of signature plays — the ones that won him awards and brought him to the front rank of American playwriting — didn't begin until 1987, the year he turned 48.
"Frankie and Johnny in the Claire de Lune" (1987), "The Lisbon Traviata" (1989), "Lips Together, Teeth Apart," (1991) "A Perfect Ganesh" (1993), "Love! Valour! Compassion!" (1994) and "Master Class" (1995) may not qualify as landmarks with near-universal recognition and acclaim among theater lovers — as has been the case with the best works of some of McNally's more famed contemporaries, such as Edward Albee, August Wilson, Tony Kushner, David Mamet and Sam Shepard. But the plays he wrote during his extended creative high tide were funny, warm, poignant, life-affirming and popular.
In the shadow of the AIDS epidemic, McNally, who was openly gay and in 2000 lost his longtime partner, Gary Bonasorte, to the disease, met the demands of that critical time with a warmer, more embracing vision than he'd shown in his first quarter-century of work. He won best-play Tonys in 1995 and 1996. The first was for "Love! Valour! Compassion!," in which eight gay men spending holiday weekends together one summer under the shadow of AIDS have their bonds tested and affirmed. He won again with "Master Class," a loving but hardly fawning portrayal of opera diva Maria Callas, which became a meditation on the extreme commitment and sacrifice exacted from those compelled to reach for the greatest artistic heights.
"When I'm writing, I try not to think in terms of themes," McNally told the New York Times in 2004. "But I think I write about the difficulty of people connecting as they're trying to find hope, trying to find their way to real love and commitment."
McNally disliked being described as a gay playwright — dismissing it as a reductive label, especially since his subject matter was hardly limited to gay life. Still, it was a subject he took on from early in his career, and approached with both anger and tenderness during his peak creative period starting in the late 1980s. "I think I wanted to write about what it's like to be a gay man at this particular moment in our history," he wrote in a preface to the published text of "Love! Valour! Compassion!"
"I think I wanted to tell my friends how much they've meant to me. I think I wanted to tell everyone else who we are when they aren't around. I think I wanted to reach out and let more people into those places in my heart where I don't ordinarily welcome strangers."
The main writer of this obituary, longtime L.A. Times critic and reporter Mike Boehm, died in May 2019.